The Home Learning Environment
Supporting the Home Learning Environment
Introduction
This section is designed to support practitioners to provide information, ideas, national Department for Education (DfE) guidance and weblinks for parents/carers to help their children's learning and development at home.
Non-statutory guidance which promote parents as partners
Birth to 5 Matters: Guidance by the sector, for the sector - Published by Early Education on behalf of the Early Years Coalition - revised April 2021.
Download a free copy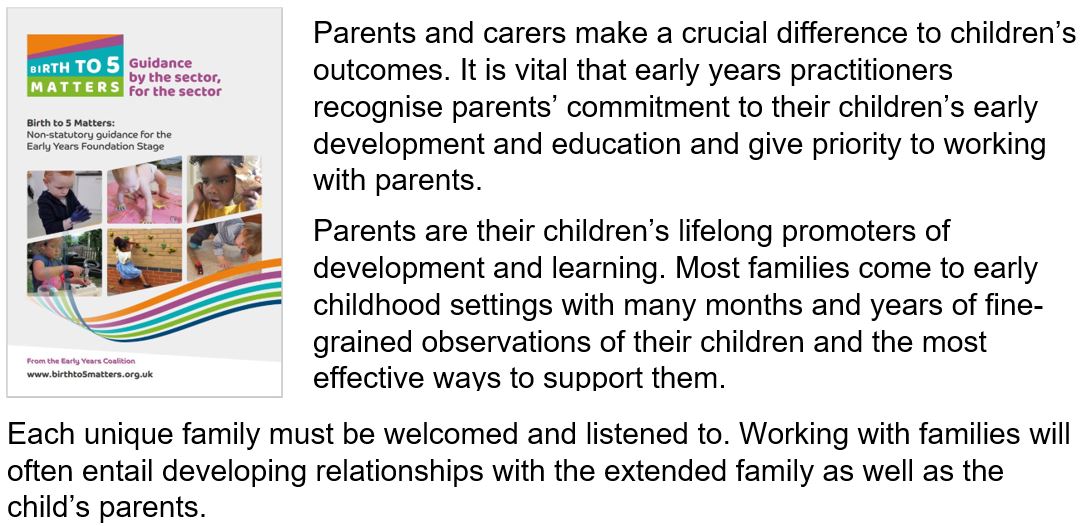 Development Matters: Non-statutory curriculum guidance for the early years foundation stage. A Department for Education (DfE) publication - revised July 2021. Partnership with parents are one of the seven key features of effective practice.
Download a free copy


What to expect in the Early Years Foundation Stage: a guide for parents - Published by the East London Research School and the Department for Education (DfE) - published September 2021. Why not signpost parents to learn more about their child's development by sending out pages 100 - 103 of the guidance?
Download a free copy


Other useful guidance documents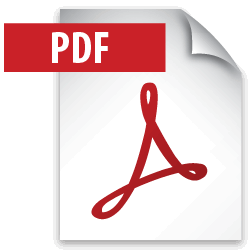 Contingency framework: education and childcare settings (August 2021)
Please refer to the remote education guidance within the Contingency Framework from page 14.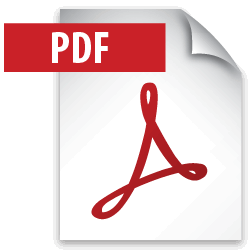 Advice for parents and carers: How to support the wellbeing and learning of your children during the coronavirus outbreak
Top tips for practitioners.
Find out more to support the home learning environment
The Education Endowment Foundation talk about the impact of parent engagement projects and how to implement successful strategies in your setting, see snippet below. To read more about this, click here.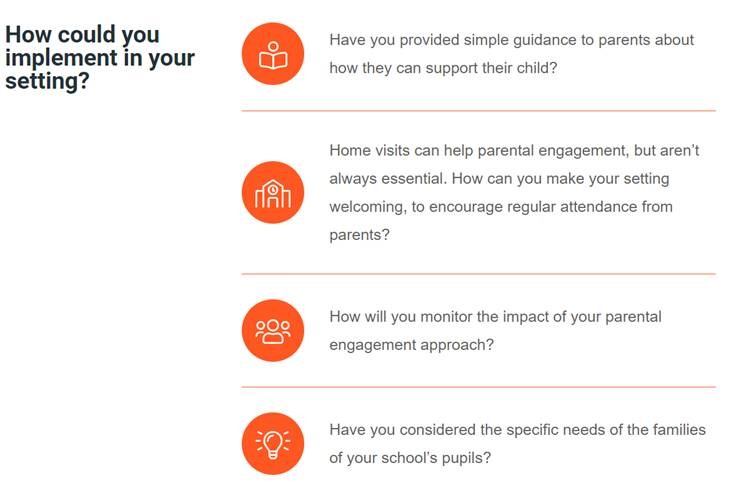 Useful Links
Communication and Language
Personal, Social and Emotional Development
Physical Development
Maths
Literacy
Understanding the World
Expressive Arts and Design
Daily activities for parents
Keeping children safe online
Children's safe use of apps
Supporting your mental health
Autumn idea swaps
In this section, we look at ideas to help you support parents over the autumn term. This can include a spotlight on some great ideas from around our settings in Bolton - settings who are sharing some of their experiences - what worked or what didn't work.
---
Care Chiefs Highfield Hall Children's Nursery
Care Chiefs Highfield Hall Children's Nursery share lots of information and ideas with their parents using Facebook.
This term they highlight the importance of reading linked to Autumn. The children have loved bringing their bags back to nursery filled with the signs of Autumn.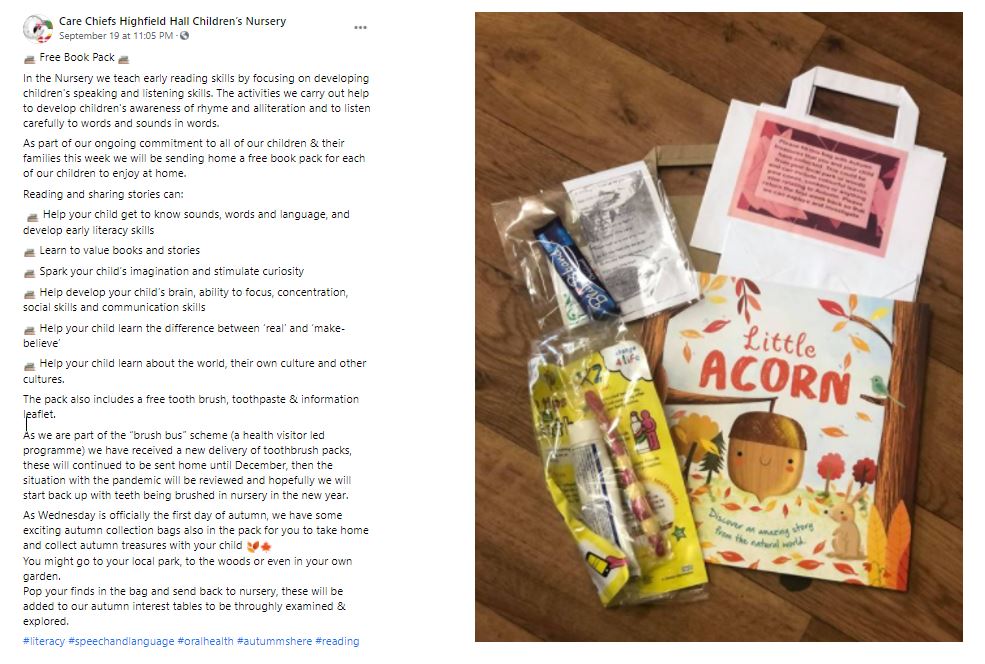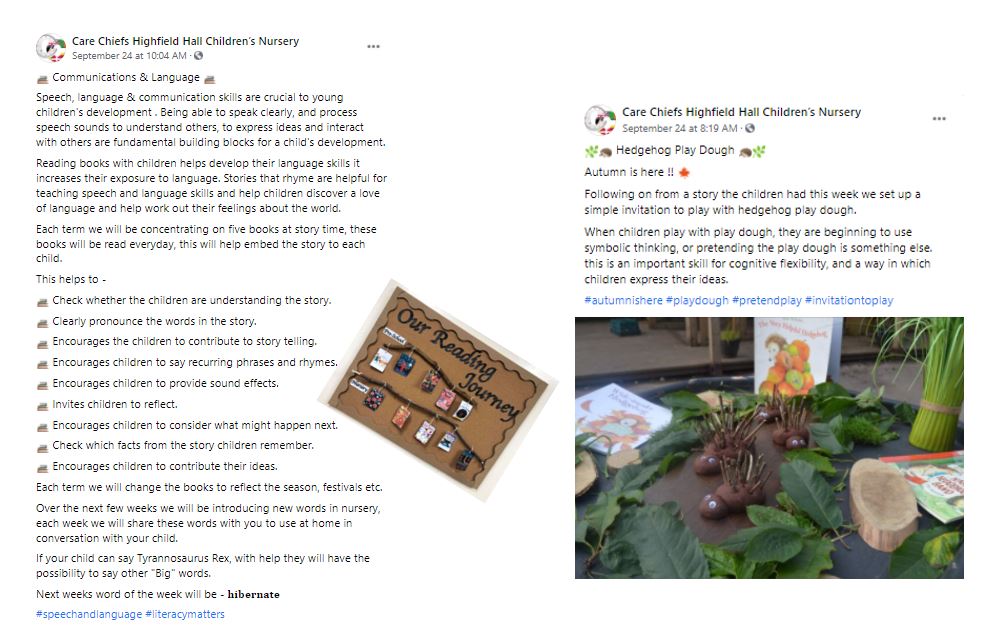 ---
Parent Connect

Signpost your parents to two FREE online courses organised by early years alliance (both funded by the Department for Education).
'Free online learning for the whole family' is an activity-packed programme offering loads of ideas on how to keep your little one happy, motivated and learning. These are one-off online events providing wellbeing and other advice. They support children's early education. Sessions include:
Supporting your child's learning at home - an introduction;
Supporting communication and language development at home;
Supporting physical development at home;
Learning in the kitchen;
Supporting personal, social and emotional development at home;
Learning in the bathroom;
Home learning for babies;
Learning in the garden;
Home learning for Toddlers - with a focus on schemas.
For more information, click here.
'Being together, my baby and me' is a virtual postnatal support group for new parents held online via Zoom. The programme combines advice on baby's learning and development with postnatal support for new parents. Families will get the opportunity to share experiences and get to know other families with new babies over 5 sessions, with topics including:
Brain development and sensory play;
Early language and communication;
Positive mental health and the outdoors;
Keeping your baby safe and healthy;
The importance of play.
For more information, click here.
---
BBC CBeebies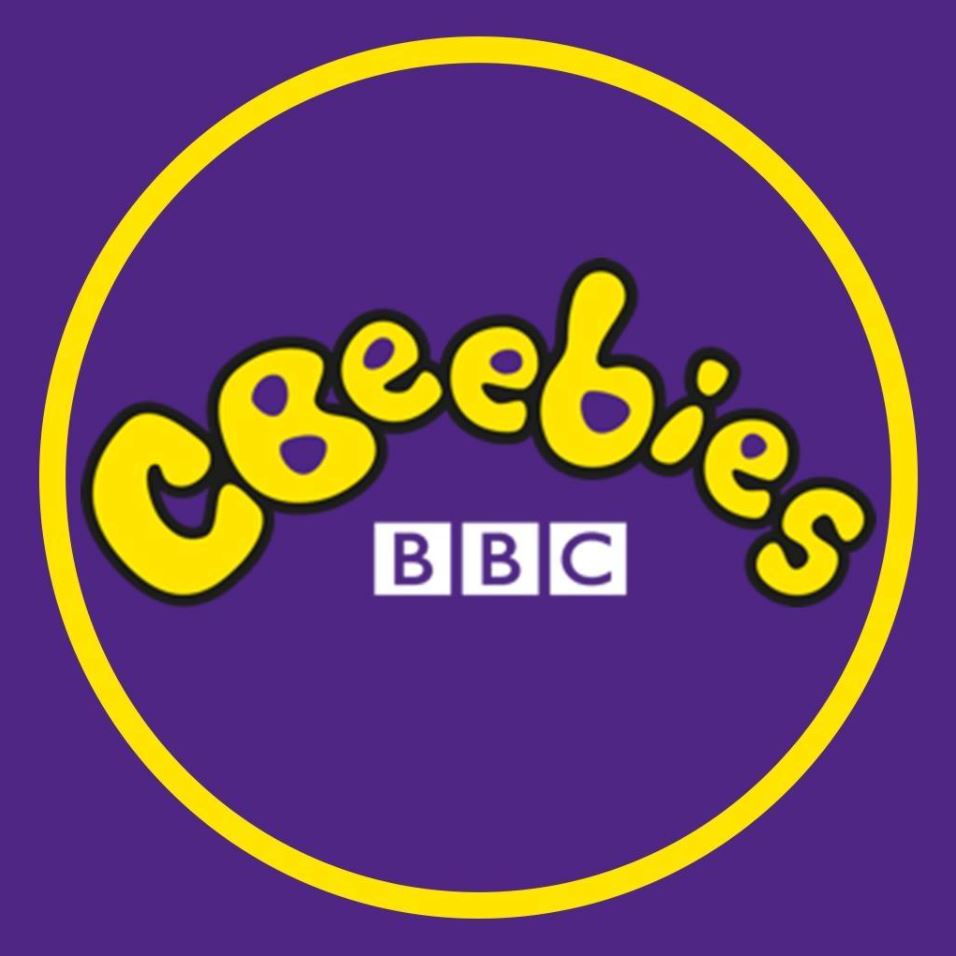 The weather is getting colder, the evenings are getting darker, and you and your families might be struggling for autumn activities.
Whether families enjoy heading outdoors on a crisp cold morning or would rather stay cosy on the sofa, CBeebies has listed their five favourite activity ideas for keeping little ones busy this autumn.
Check out what the BBC CBeebies are sharing here: 'Five things to do in autumn with kids'.
---
Nature walks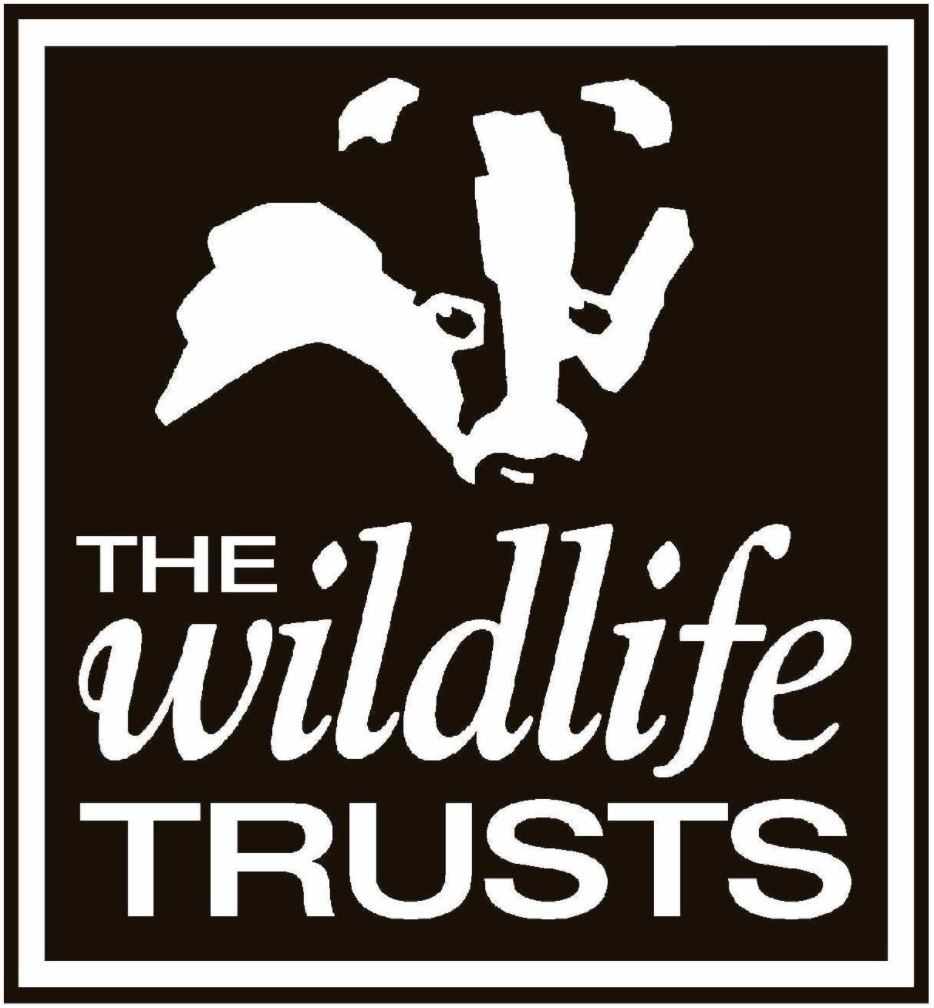 Encourage your parents to explore the great outdoors this autumn by taking a guided walk in Longsight Park.
Bioblitz - Nature ID Walk in Bolton takes place on Wednesday 13th October 2021 from 10:00am - 12:00noon and it's the perfect opportunity for children to learn how to begin identifying plants, wildlife and fungi when out in nature.
Location: Longsight Park, Longsight Park, Longsight Lane, Bolton, BL2 4JU
This is a FREE activity but advanced booking is required. More information found here: Bioblitz - Nature Walk in Bolton | Wildlife Trusts for Lancashire, Manchester and North Merseyside.
---
TTS Early Years: A Home Learning Collection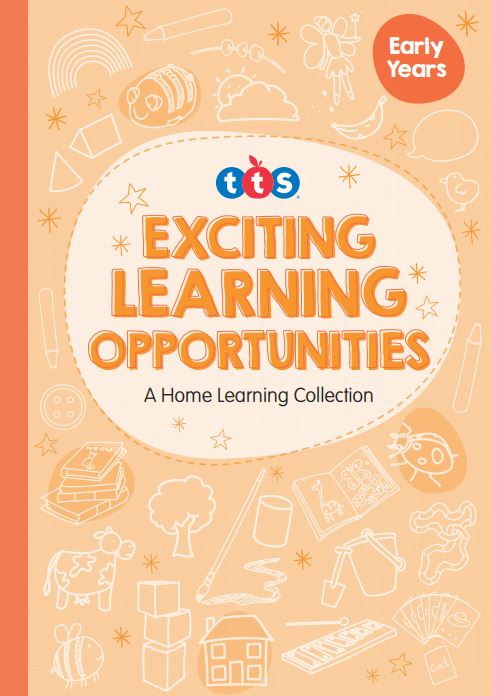 Have you seen the Early Years Activities Collection by the TTS?
It's a FREE downloadable resource packed full of activities for your parents to try at home, using every day ingredients to explore, make, create and have lots and lots of fun. You can access the resource here.
---
Brookes Publishing: 10 Fun fall (autumn) activities that support young children's development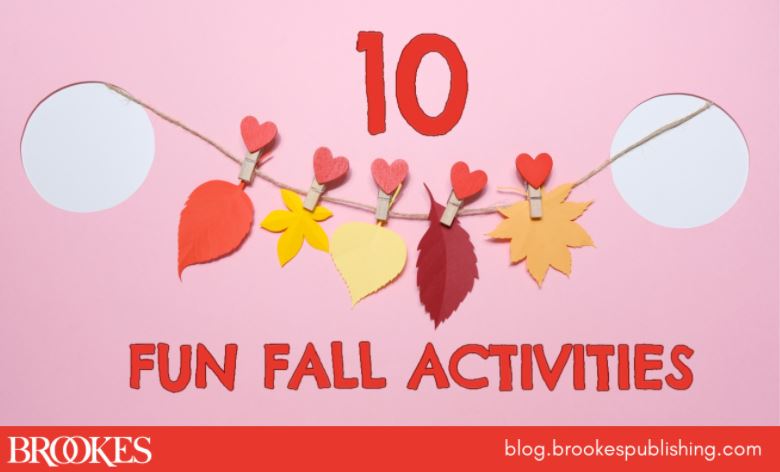 Brookes Publishing parent friendly web page is suitable for use with children of all ages. Here, families will find simple ideas that they can easily fit into everyday routines.
The latest "fall season", autumn activities can be shared with your families. We really like the feely bag and leaf notecard ideas and we're sure your families will enjoy them too.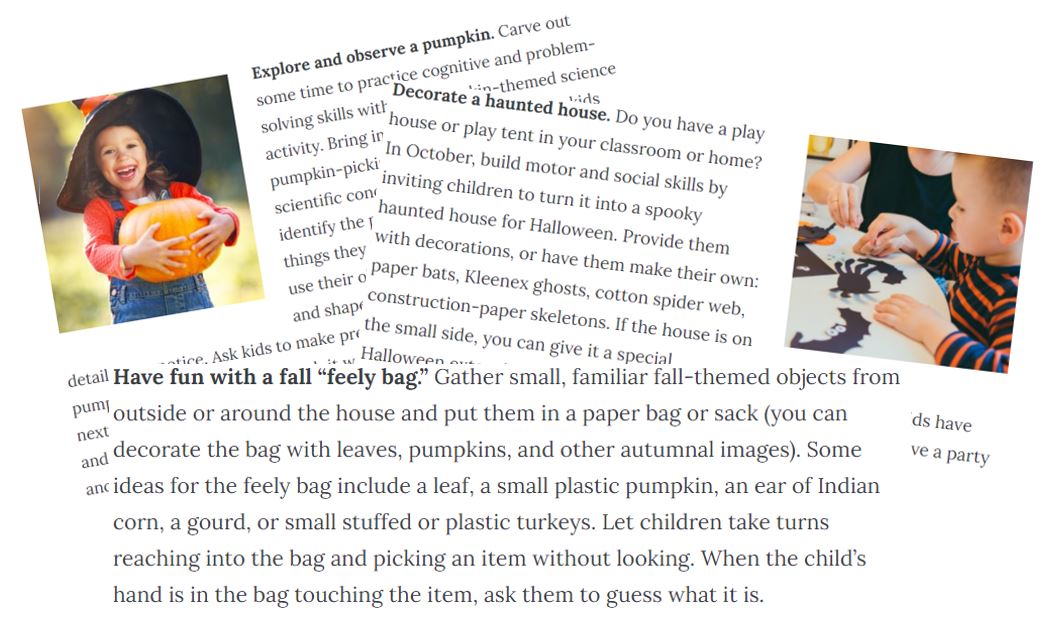 ---
Autumn reading
As the nights get colder, encourage your parents to snuggle up with their children and have a good read of some autumn and winter books.
Here are some suggested books that our Bolton early years families could cuddle up and read:
---
Bolton Start Well at Home - Facebook group page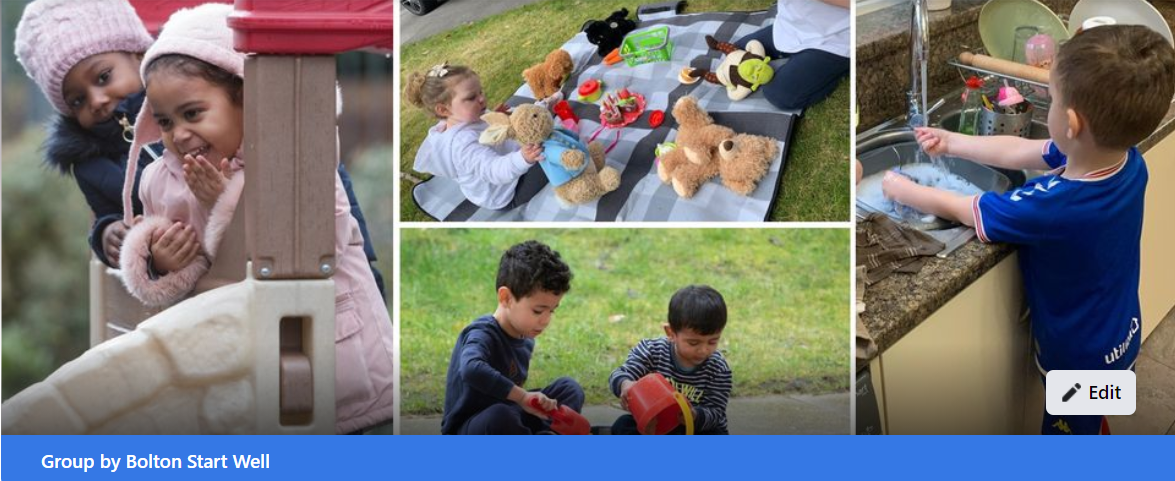 Have you shared Bolton Start Well at Home Facebook page with your parents?
Parents and children can watch and join in daily with stories, rhymes, activities and lots more!
Here is the link to the page: https://www.facebook.com/groups/BoltonStartWellatHome. Please share this regularly in your news letters, via social media and any other communications with families.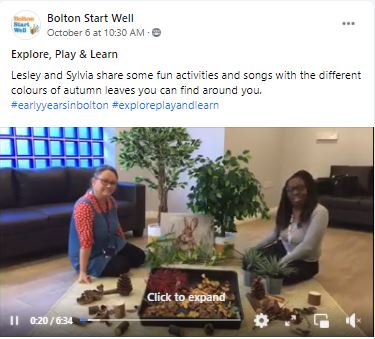 ---
We would love to see your ideas to support parents and other practitioners. Please send us your ideas by emailing StartWellBookings@bolton.gov.uk and marking your email 'Idea Swaps'.
Don't forget to use the hashtag #earlyyearsinBolton in your Facebook and Twitter posts, so that we can see the great work you are doing and maybe feature it in this spot.