The Home Learning Environment
Supporting the Home Learning Environment
Introduction
This section is designed to support practitioners to provide resources, ideas and advice to nurture quality home learning experiences.
Here you will find a combination of resources for under 3s, over 3s and children with additional needs, created in Bolton and other National, DfE and recommended resources and guidance.
In light of the current pandemic, we have included a section on Remote Access to EYFS during COVID-19 Lockdown. Here you will find a rationale for remote access, practical tips and home learning activity ideas shared by Bolton settings.
What is Remote Access to EYFS during COVID 19 Lockdown?
The Government announced that during the current national lockdown, all early years provision would continue to open. We are aware that a few parents/carers have chosen to keep their children at home and there has been lots of guidance released to help you support their ongoing learning at home. Some guidance may refer to this as remote education or remote home learning. In Bolton, this is referred to as Remote Access to EYFS during COVID-19 Lockdown.
A copy of the funding proposal for private early years providers and schools was explained in the PVI funding webinar recorded on the 7th January 2021.
You are strongly encouraged to watch this webinar as it will explain the process that will need to be followed.
Useful link
How Can I Support Remote Access to the EYFS during Covid-19 Lockdown?
In January 2021, The DfE commented that they recognise that many settings have already shared resources for children who are at home and we are grateful for this.
Settings should consider how:
to continue to support the learning of children who do not attend settings, including how these children can maintain contact with their key person and peers through the early years' setting.
parents and carers can be supported to provide a positive learning environment at home.
Settings can also direct parents to:
the DfE Hungry Little Minds campaign. This features tips and practical activities that parents can do at home with children to support their early learning. There are many simple ways to help children learn and it does not have to be formal. Having everyday conversations, make-believe play and reading together all make a big difference to child development.
the National Literacy Trust's Family Zone for more ideas and content.
Useful link
In Bolton, to support your parents and carers to make the most of their child's learning and development opportunities you could:
Contact parents/carers daily with suggested activities that are matched to their child's age and stage of development.
Offer regular personalised contact at agreed times to discuss children's progress and engagement with the activities planned. This may be delivered virtually using apps such as Tapestry, School Drop, WhatsApp or Zoom, via telephone contact or any digital media of your choosing or that you already use with parents.
Signpost parents/carers to suitable, high quality online resources.
A template that explains remote access to parents/carers can be found here - Parental Request for Remote Access to EYFS during COVID-19 Lockdown - (letter template).
You are strongly encouraged to watch the webinar as it will explain the process.
Top tips for practitioners
If you would like to further develop and reflect on your current approach to supporting parents/carers in the Home Learning Environment, there are two documents available to download:
Useful Links
Communication and Language
Personal, Social and Emotional Development
Physical Development
Maths
Literacy
Daily activities for parents
Keeping children safe online
Children's safe use of apps
Supporting your mental health
If you are struggling, text 85258 to SHOUT to be connected to a trained, empathetic and listening Shout Volunteer

Parents can text a healthcare professional through ChatHealth on 07507 331751. This is service provides parents, carers and young people with quick and easy access to confidential health advice from a Bolton based specialist team. with questions ranging from breastfeeding support and child development, to behavioural issues and general advice and support.

.
Summer Idea swaps
In this section, we look at ideas to help you support parents over the summer term. This may include a spotlight on some great ideas from around our settings in Bolton - settings who are sharing some of their experiences - what worked or what didn't work.
---
NurseryWorld: Working with parents - going strong

One of our very own Bolton early years settings, Brighter Bunnies Pre School, previously known as Daisy Hill Pre School recently featured in a NurseryWorld news article titled, "Working with parents - going strong", which looked at how lockdown-led YouTube videos have made lasting improvements to relationships with parents.
The settings first video went live on the 23rd March, and to date they have produced more than 120 educational videos on their YouTube channel for their families to watch and enjoy. They have continued to use their YouTube channel, even after lockdown ended. The setting credit the initiative, along with their WhatsApp group for parents and carers, for stregthening communication relationships between parents and the setting staff.
Ms Parr of Brighter Bunnies Pre School in Bolton said "It's been a massive, positive thing that we wouldn't have done if we hadn't had Covid. The parents have asked us to still do the YouTube and WhatsApp. We always have a handful of parents who are ready to help, but there is another group who do not engage. I've found that group is far more engaged now". Nursery World 5.5.21
---
Rediscover Summer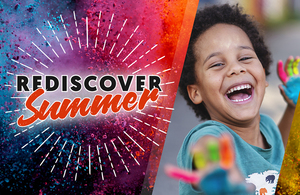 The Government's Rediscover Summer campaign has launched to help inspire families to get out and about safely and make the most out of summer.
The guide, published on the 10th July 2021 by the Department for Digital, Culture, Media and Sports and the Department for Education can be accessed here.
The content covers: Reading, Creativity, Sport, Nature, Heritage and more.
Get involved, share with families and help everyone to rediscover summer safely!
Join the conversation on social media using #RediscoverSummer.

When planning your summer, make sure you're following the latest Coronavirus (COVID-19) guidance.
---
ASQ: 7 things to do this summer to boost your child's development

Ages and Stages Questionnaires (ASQ) have developed a new resource for families called '7 things to do this summer to boost your child's development'. This parent friendly web page is suitable for use with children of all ages. Here, families will find simple ideas that they can easily fit into everyday routines.
ASQ also offer a free downloadable PDF titled 'Help your child learn and grow'. This resource comprises of a collection of age specific activities that can be viewed online or printed, for parents with chilren aged between 2 months - 5 years: ASQ - 3 Parent Activities
---
GREATERSPORT: New at-home guidance created to support parents and carers to get their little ones moving!
The Greater Sport and Greater Manchester Combines Authority (GMCA) have produced three get moving leaflets. These leaflets can be downloaded or printed off to share 'top tips' for movement.
The bonus is, that these activities complement the recently released GMCA Ten Tips for Talking - also available to freely download or print, in 15 different languages.
You will find more information, including all of the 'Top Tips' for communication and language development, on our website here.
---
Bolton Start Well at Home - Facebook group page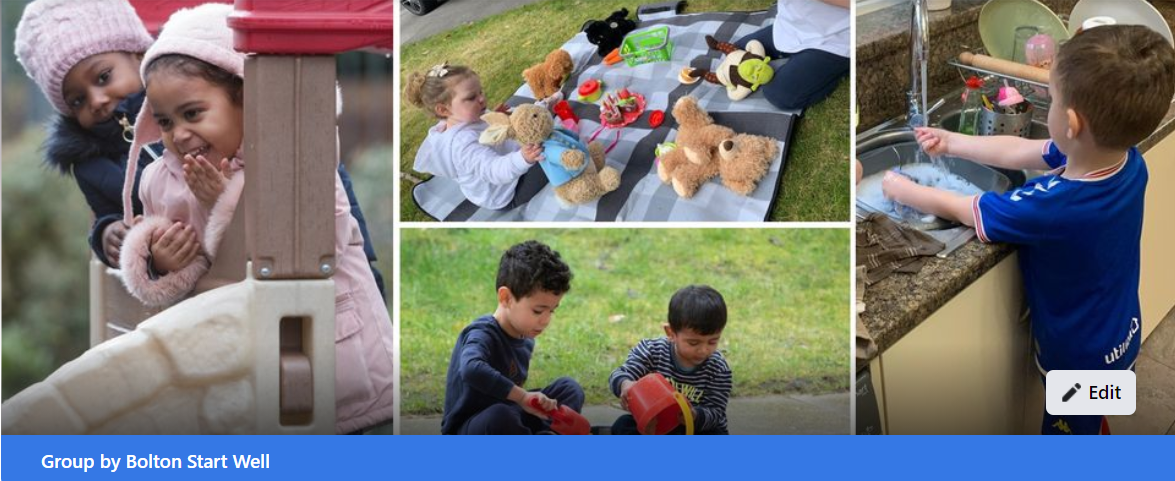 Have you shared Bolton Start Well at Home Facebook page with your parents?
Parents and children can watch and join in daily with stories, rhymes, activities and lots more!
Here is the link to the page: https://www.facebook.com/groups/BoltonStartWellatHome. Please share this regularly in your news letters, via social media and any other communications with families.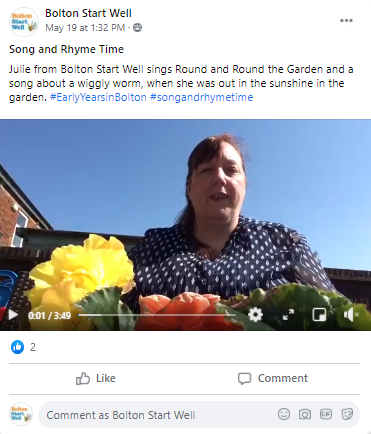 ---
Summer 2021 reading events

BookTrust: Summer of reading
BookTrust have teamed up with over 20 other organisations to celebrate a Summer of Reading! A FULL programme has been planned, and you can find more about the programme events and activites, which will be available throughout the summer here. Summer of Reading will run every week until the 17th September 2021.
The BookTrust have also recently recommended some fantastic books that you might choose to follow on from the well loved, family favourite "Dear Zoo" by Rod Campbell. Here, you'll find some great alternative 'flap books', some brilliant toddler reads and some other zoo-themed books aimed at slightly older children.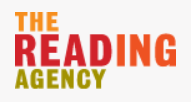 The Reading Agency: Summer Reading Challenge
The Reading Agency have teamed up with WWF for this year's reading challenge, themed "Wild World Heroes". The event will take place from Saturday 10th July – Saturday 11th September. This year, the Agency are opening the challenge to the under 4s as well as the usual 4-11 age range, and they are planning on running a story writing competition to tie-in with the challenge too. For more information, visit: Summer Reading Challenge.
"With school life disrupted, this year's Challenge is more important than ever, helping parents and carers to find family-friendly activities, maintain literacy levels and create a safe space for children to connect with their peers".
---

National Week of Play: 21st - 27th June 2021
The Early Years Alliance have recently reported that COVID-19 has had a hugely detrimental impact on children's access to play - Play centres, park closures and general COVID related restrictions have meant that children have been denied opportunities to socialise with others, causing worlds to shrink and restricted our children's ability to play.
The Alliance believe that now is the time to focus on learning through play, putting play at the heart of everything we as practitioners and parents do. "Let's support our families to discover and explore new play ideas for the home learning environment"
Join in with the Early Years Alliance's National Week of Play which takes place on the 21st - 27th June 2021.
There are activities taking place throughout the week. Tune in to the Alliance's Facebook page and website to find out more. You can also sign-up to receive resources and activities!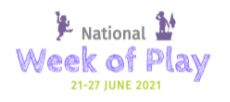 ---
We would love to see your ideas to support parents and other practitioners. Please send us your ideas by emailing StartWellBookings@bolton.gov.uk and marking your email Idea Swaps.
Don't forget to use the hashtag #earlyyearsinBolton in your Facebook and Twitter posts, so that we can see the great work you are doing and maybe feature it in this spot.