The Home Learning Environment
Supporting the Home Learning Environment
Introduction
This section is designed to support practitioners to provide resources, ideas and advice to nurture quality home learning experiences.
Here you will find a combination of resources for under 3s, over 3s and children with additional needs, created in Bolton and other National, DfE and recommended resources and guidance.
In light of the current pandemic, we have included a section on Remote Access to EYFS during COVID-19 Lockdown. Here you will find a rationale for remote access, practical tips and home learning activity ideas shared by Bolton settings.
What is Remote Access to EYFS during COVID 19 Lockdown?
The Government announced that during the current national lockdown, all early years provision would continue to open. We are aware that a few parents/carers have chosen to keep their children at home and there has been lots of guidance released to help you support their ongoing learning at home. Some guidance may refer to this as remote education or remote home learning. In Bolton, this is referred to as Remote Access to EYFS during COVID-19 Lockdown.
A copy of the funding proposal for private early years providers and schools was explained in the PVI funding webinar recorded on the 7th January 2021.
You are strongly encouraged to watch this webinar as it will explain the process that will need to be followed.
Useful link
How Can I Support Remote Access to the EYFS during Covid-19 Lockdown?
In January 2021, The DfE commented that they recognise that many settings have already shared resources for children who are at home and we are grateful for this.
Settings should consider how:
to continue to support the learning of children who do not attend settings, including how these children can maintain contact with their key person and peers through the early years' setting.
parents and carers can be supported to provide a positive learning environment at home.
Settings can also direct parents to:
the DfE Hungry Little Minds campaign. This features tips and practical activities that parents can do at home with children to support their early learning. There are many simple ways to help children learn and it does not have to be formal. Having everyday conversations, make-believe play and reading together all make a big difference to child development.
the National Literacy Trust's Family Zone for more ideas and content.
Useful link
In Bolton, to support your parents and carers to make the most of their child's learning and development opportunities you could:
Contact parents/carers daily with suggested activities that are matched to their child's age and stage of development.
Offer regular personalised contact at agreed times to discuss children's progress and engagement with the activities planned. This may be delivered virtually using apps such as Tapestry, School Drop, WhatsApp or Zoom, via telephone contact or any digital media of your choosing or that you already use with parents.
Signpost parents/carers to suitable, high quality online resources.
A template that explains remote access to parents/carers can be found here - Parental Request for Remote Access to EYFS during COVID-19 Lockdown - (letter template).
You are strongly encouraged to watch the webinar as it will explain the process.
Top tips for practitioners
If you would like to further develop and reflect on your current approach to supporting parents/carers in the Home Learning Environment, there are two documents available to download:
Useful Links
Communication and Language
Personal, Social and Emotional Development
Physical Development
Maths
Literacy
Daily activities for parents
Keeping children safe online
Children's safe use of apps
Supporting your mental health
If you are struggling, text 85258 to SHOUT to be connected to a trained, empathetic and listening Shout Volunteer

Parents can text a healthcare professional through ChatHealth on 07507 331751. This is service provides parents, carers and young people with quick and easy access to confidential health advice from a Bolton based specialist team. with questions ranging from breastfeeding support and child development, to behavioural issues and general advice and support.

.
Idea swaps for April
In this section, we turn the spotlight on some great ideas from around our settings in Bolton, who are sharing some of their experiences - what worked and what didn't work - that you can try too.
This month's featured settings show examples of resources they have shared with parents on their Facebook pages and email communication.
Phase 1 Phonics, is being promoted in our early years settings. Here, Kim from Bright Futures Nursery shares a short video with parents to explain the 7 aspects of phase one. How have you shared phonics messages and information with your parents?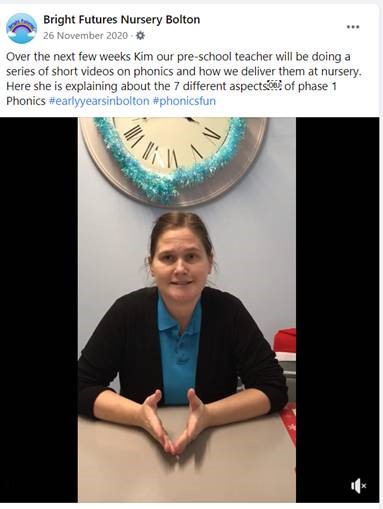 ---
St Gregory's RC Primary School have kindly shared their guide 'Home learning for EYFS using Seesaw', a digital app-based platform which they have been successfully using to set homework and home learning for those children who have been isolating since September 2020. The feedback from families has been very positive.
---

Have you seen the BBC's Tiny Happy People's interactive Easter holiday Schedule? This would be perfect to share with parents of children aged 0-5 years. Parents could fill their whole week with activities! For example, 'What's in the egg box?' for 0-12mths caught our eye. We simply clicked on the link and found out how to play by watching a short video. There are 15 activities for each age group, 0-12months, 2-3, 3-4, 4-5.
---

Did you know Pyjamarama is back for the third year running? This year, Pyjamarama will take place on Friday 14th May 2021. BookTrust is encouraging children and parents to get excited about reading and to make sure every child gets their bedtime story. BookTrust are offering fundraising and activity packs for nurseries and schools. Packs contain information and resources inline with the EYFS curriculum.
---

On the "Words for Life" website, you'll find tips and activities to support helping children to chat, read and play. The parent support tab offers ideas to support chatting to your baby, reading with your child and playing with little ones. Plus, the parents of children aged 0-12 years can sign-up for a fortnightly newsletter which offers regular updated tips and activities to help your child learn.
---
We would love to see your ideas to support parents and other practitioners. Please send us your ideas by emailing StartWellBookings@bolton.gov.uk and marking your email Idea Swaps.
Don't forget to use the hashtag #earlyyearsinBolton in your Facebook and Twitter posts, so that we can see the great work you are doing and maybe feature it in this spot.