The Home Learning Environment
Supporting the Home Learning Environment
Introduction
This section is designed to support practitioners to provide resources, ideas and advice to nurture quality home learning experiences.
Here you will find a combination of resources for under 3s, over 3s and children with additional needs, created in Bolton and other National, DfE and recommended resources and guidance.
In light of the current pandemic, we have included a section on Remote Access to EYFS during COVID-19 Lockdown. Here you will find a rationale for remote access, practical tips and home learning activity ideas shared by Bolton settings.
What is Remote Access to EYFS during COVID 19 Lockdown?
The Government announced that during the current national lockdown, all early years provision would continue to open. We are aware that a few parents/carers have chosen to keep their children at home and there has been lots of guidance released to help you support their ongoing learning at home. Some guidance may refer to this as remote education or remote home learning. In Bolton, this is referred to as Remote Access to EYFS during COVID-19 Lockdown.
A copy of the funding proposal for private early years providers and schools was explained in the PVI funding webinar recorded on the 7th January 2021.
You are strongly encouraged to watch this webinar as it will explain the process that will need to be followed.
Useful link
How Can I Support Remote Access to the EYFS during Covid-19 Lockdown?
In January 2021, The DfE commented that they recognise that many settings have already shared resources for children who are at home and we are grateful for this.
Settings should consider how:
to continue to support the learning of children who do not attend settings, including how these children can maintain contact with their key person and peers through the early years' setting.
parents and carers can be supported to provide a positive learning environment at home.
Settings can also direct parents to:
the DfE Hungry Little Minds campaign. This features tips and practical activities that parents can do at home with children to support their early learning. There are many simple ways to help children learn and it does not have to be formal. Having everyday conversations, make-believe play and reading together all make a big difference to child development.
the National Literacy Trust's Family Zone for more ideas and content.
Useful link
In Bolton, to support your parents and carers to make the most of their child's learning and development opportunities you could:
Contact parents/carers daily with suggested activities that are matched to their child's age and stage of development.
Offer regular personalised contact at agreed times to discuss children's progress and engagement with the activities planned. This may be delivered virtually using apps such as Tapestry, School Drop, WhatsApp or Zoom, via telephone contact or any digital media of your choosing or that you already use with parents.
Signpost parents/carers to suitable, high quality online resources.
A template that explains remote access to parents/carers can be found here - Parental Request for Remote Access to EYFS during COVID-19 Lockdown - (letter template).
You are strongly encouraged to watch the webinar as it will explain the process.
Top tips for practitioners
If you would like to further develop and reflect on your current approach to supporting parents/carers in the Home Learning Environment, there are two documents available to download:
Useful Links
Communication and Language
Personal, Social and Emotional Development
Physical Development
Maths
Literacy
Daily activities for parents
Keeping children safe online
Children's safe use of apps
Supporting your mental health
If you are struggling, text 85258 to SHOUT to be connected to a trained, empathetic and listening Shout Volunteer

Parents can text a healthcare professional through ChatHealth on 07507 331751. This is service provides parents, carers and young people with quick and easy access to confidential health advice from a Bolton based specialist team. with questions ranging from breastfeeding support and child development, to behavioural issues and general advice and support.

.
Idea swaps for May
In this section, we turn the spotlight on some great ideas from around our settings in Bolton, who are sharing some of their experiences - what worked and what didn't work - that you can try too.
This month's featured setting show how they use social media to regularly communicate with families.
St Marys Deane uses Twitter to share advice, ideas and information with parents. Do you have a Twitter account? How are you keeping parents up to date with home learning ideas?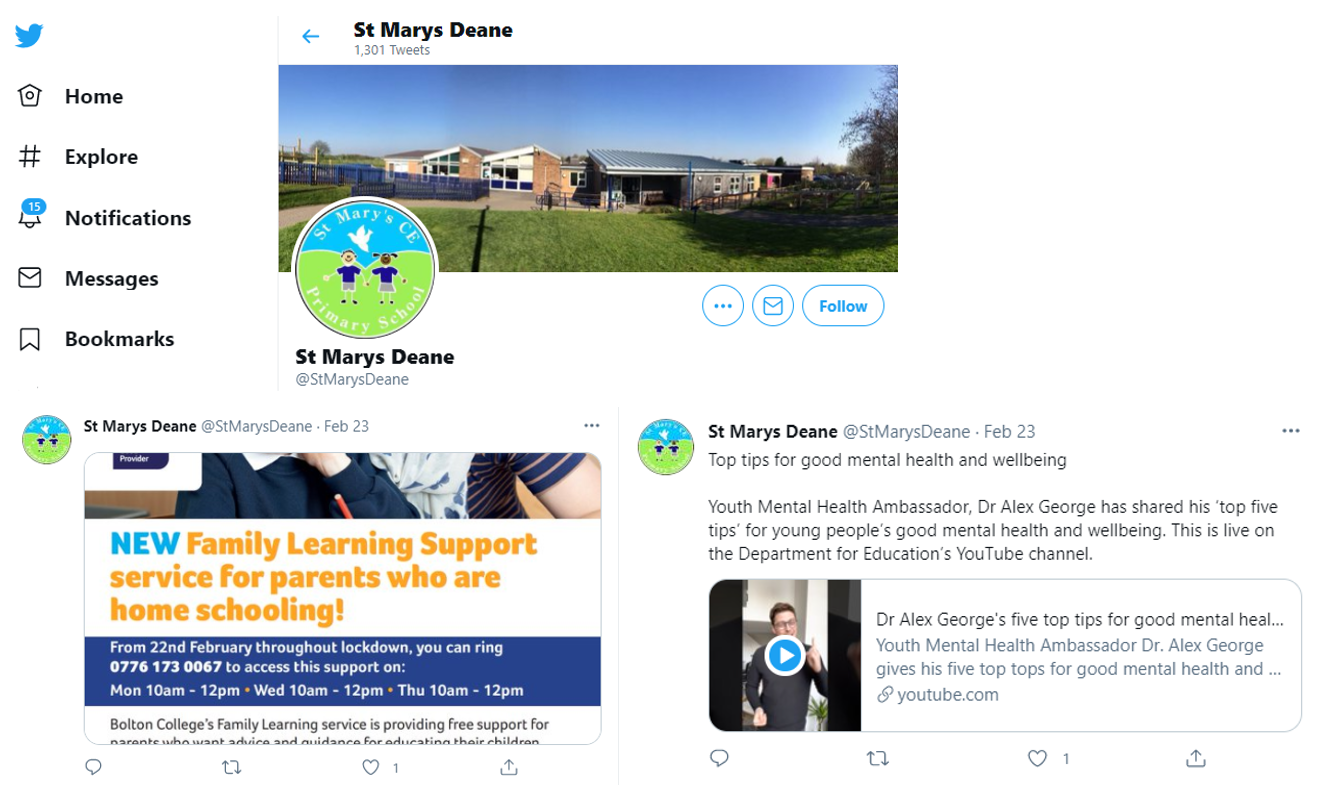 ---

Have you shared Bolton Start Well at Home Facebook page with your parents?
Parents and children can watch and join in daily with stories, rhymes, activities and lots more!
Here is the link to the page: https://www.facebook.com/groups/BoltonStartWellatHome. Please share this regularly in your news letters, via social media and any other communications with families.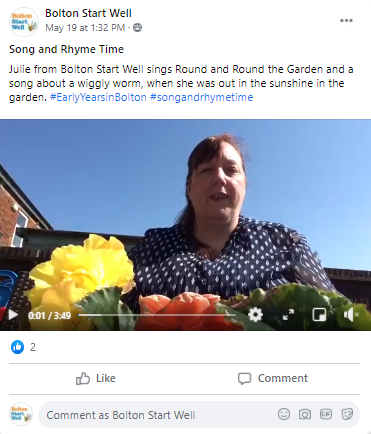 ---
Preparing for school
What can parents use, be doing and looking at to support children to be school ready? Why not share the link to the What to Expect When? A guide to your child's learning and development in the early years foundation stage, published by the Department for Education. Page 32 and 33 have some great ideas about how parents can boost early years learning!

And... don't forget to book onto our upcoming transition network events for early years leaders in schools, childminders and PVI settings.
Transition During COVID-19: An Online Network Event | 7th June 2021 | 1:00pm - 2:30pm
Transition During COVID-19: An Online Network Event | 7th June 2021 | 6:30pm - 8:00pm
These sessions will provide a forum for early years providers and schools to come together to discuss practical ways to support children starting school in September 2021.
---

Continue supporting your parents to read to their children. The BookTrust has a really good website 'books, reading tips and advice' that promotes the following message: "Sharing a book with a child is fun! It's a time for closeness, laughter and talking together - and it can also give children a flying start in life and help them become lifelong readers".
---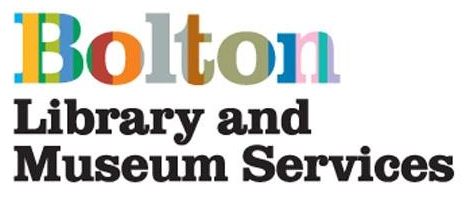 Bolton Central Library is NOW OPEN for book browsing, computer use and study.
Bolton Library is taking part in the forthcoming Manchester Libraries Festival which runs from the 9th to the 13th June. The festival which is supported by Arts Council England, will feature a vibrant programme that highlights the library network's full offer: wellbeing, culture and creativity, digital and information, and of course, reading. More information here: https://www.manchestercityofliterature.com/project/manchester-libraries-festival/
And why not promote one of the Bolton's Library and Museum service events? Look out for the Bolton Museum Bear Hunt!
Join them on Facebook and find out more.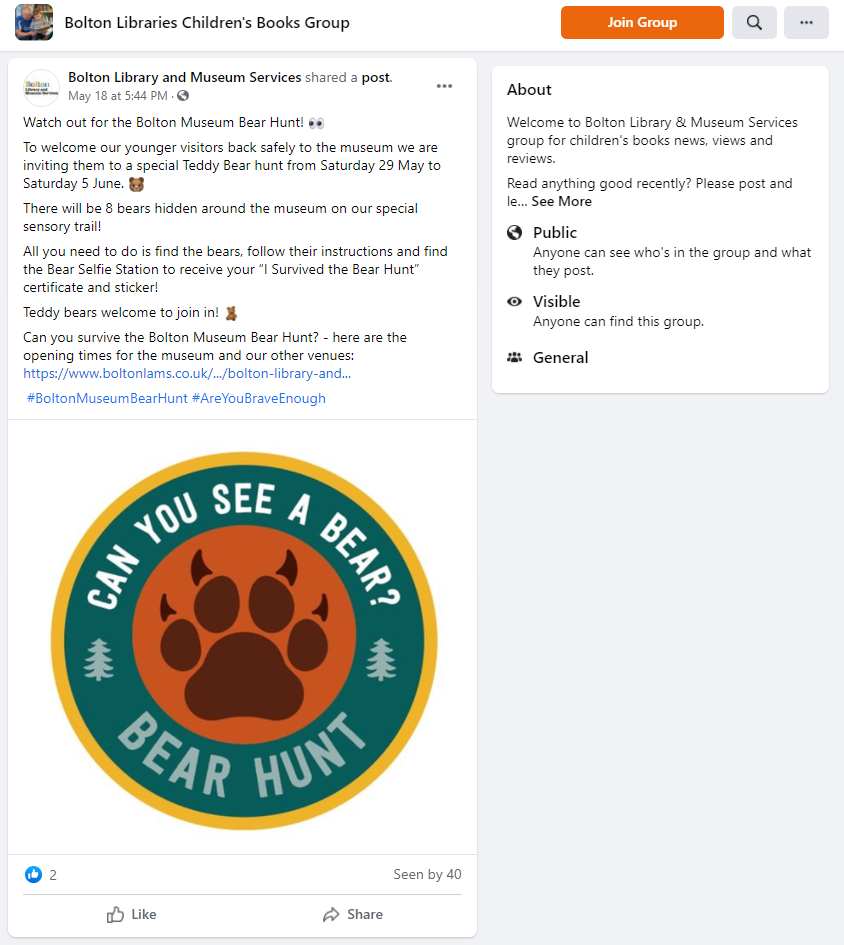 ---

National Week of Play: 21st - 27th June 2021
The Early Years Alliance have recently reported that COVID-19 has had a hugely detrimental impact on children's access to play - Play centres, park closures and general COVID related restrictions have meant that children have been denied opportunities to socialise with others, causing worlds to shrink and restricted our children's ability to play.
The Alliance believe that now is the time to focus on learning through play, putting play at the heart of everything we as practitioners and parents do. "Let's support our families to discover and explore new play ideas for the home learning environment"
Join in with the Early Years Alliance's National Week of Play which takes place on the 21st - 27th June 2021.
There are activities taking place throughout the week. Tune in to the Alliance's Facebook page and website to find out more. You can also sign-up to receive resources and activities!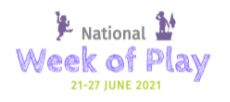 ---
We would love to see your ideas to support parents and other practitioners. Please send us your ideas by emailing StartWellBookings@bolton.gov.uk and marking your email Idea Swaps.
Don't forget to use the hashtag #earlyyearsinBolton in your Facebook and Twitter posts, so that we can see the great work you are doing and maybe feature it in this spot.