Observation, Assessment and Planning
EYFS Profile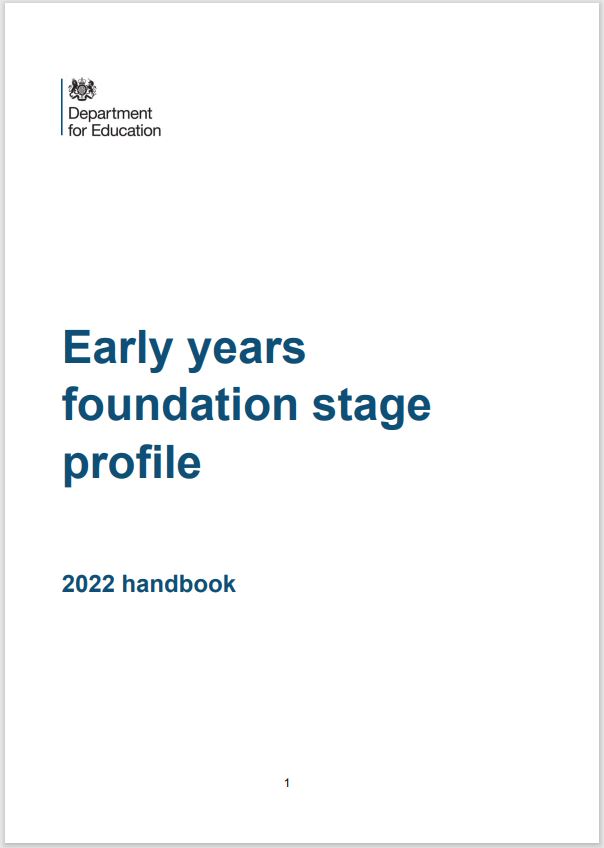 Assessment at the end of the EYFS – The EYFS Profile
Early years foundation stage profile handbook - GOV.UK (www.gov.uk)
The statutory EYFS framework requires the EYFS profile assessment to be carried out in the final term of the year in which a child reaches age 5.
The EYFS profile is made up of an assessment of the child's outcomes in relation to the 17 early learning goal (ELG) descriptors. Practitioners are expected to use their professional judgement to make these assessments, based on their knowledge and understanding of what the child knows, understands, and can do.
The main purpose of the profile assessment, at the end of the EYFS, is to support a successful transition to Key Stage 1 (KS1), by informing the professional dialogue between EYFS and year 1 teachers.
The EYFS profile is also used to inform parents about their child's development. Children are defined as having reached a Good Level of Development (GLD) at the end of the EYFS if they have achieved at least the expected level for the ELGs in the prime areas of learning and the specific areas of mathematics and literacy.
In addition, the EYFS profile provides a national child learning and development data set at the end of the EYFS.
The EYFS profile is not an accountability measure for schools and the Department for Education (DfE), does not publish school level results for the EYFS profile.
Early Years Foundation Stage Profile 2022
In March, the DfE published exemplification materials. The videos show how practitioners can draw on their knowledge of each child and their own expert professional judgement to make an accurate summative assessment at the end of the year. The context note explains further.
A vodcast for schools, multi-academy trusts and LAs was also published, which explains the changes to the EYFSP and what is different this year.
The DfE recommend that you look at the EYFSP handbook which sets out the statutory requirements for the EYFSP assessment in the 2021/22 academic year.
New last week: Myth-Busting-for-EYFS-Profile-EYFSP-and-reception-year.pdf (foundationyears.org.uk). This is a series of myths and explanations about the profile and assessment practice in Reception year.

Submitting data remains a statutory requirement
The EYFS profile must be completed for each child and submitted to the LA, no later than 30th June 2022.
Information about how to submit EYFSP via SIMS / Other routes will be released to schools via ANYCOMMS before the submission date.
Bolton Moderation 2022
Moderation activity is being led by schools, with teachers in each cluster taking a lead to organise a meeting for Reception Teachers in their cluster.
If you cannot attend your own meeting, please let the moderator in your cluster know and if you can attend an alternative date, please get in touch with that school lead to let them know you would like to attend that meeting.
Meetings are for Reception Teachers completing the EYFS Profile 2022 only.
Bolton Cluster EYFSP Peer Moderation for Reception Teachers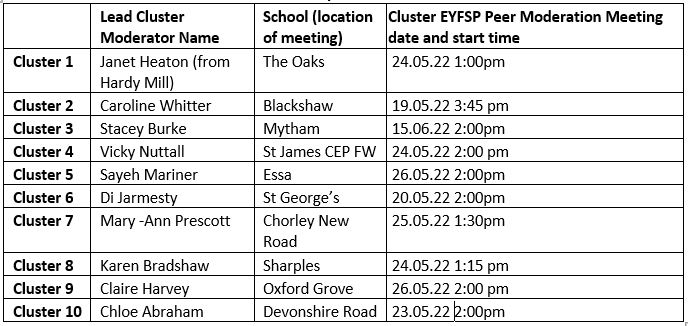 Featured Downloads