Observation, Assessment and Planning
EYFS Profile and Moderation
Assessment at the end of the EYFS – The EYFS Profile
The EYFS Profile will continue to be the statutory assessment at the end of the EYFS until 2018.
The EYFS profile summarises and describes children's attainment at the end of the EYFS. It is based on ongoing observation and assessment in the three Prime and four Specific areas of learning.
A completed profile will consist of 20 items of information: the attainment of each child assessed as a 'best fit' judgement against each of the 17 early learning goals (ELGs), together with a short narrative describing the child's learning characteristics.
For each ELG, practitioners must make a 'best fit' judgement whether the child is meeting the level of development expected at the end of Reception year (expected), exceeding this level (exceeding), or not yet reaching this level (emerging). The judgements will be informed by assessments of observations of what the child can do consistently and independently.
See the 2017 handbook.
From 2015 there was revised early learning goal (ELG) exemplification for:
ELG03-Speaking
ELG09-Reading
ELG10-Writing
ELG11-Number
The rest is the same as 2014 version.
Exemplification materials on the Department for Education website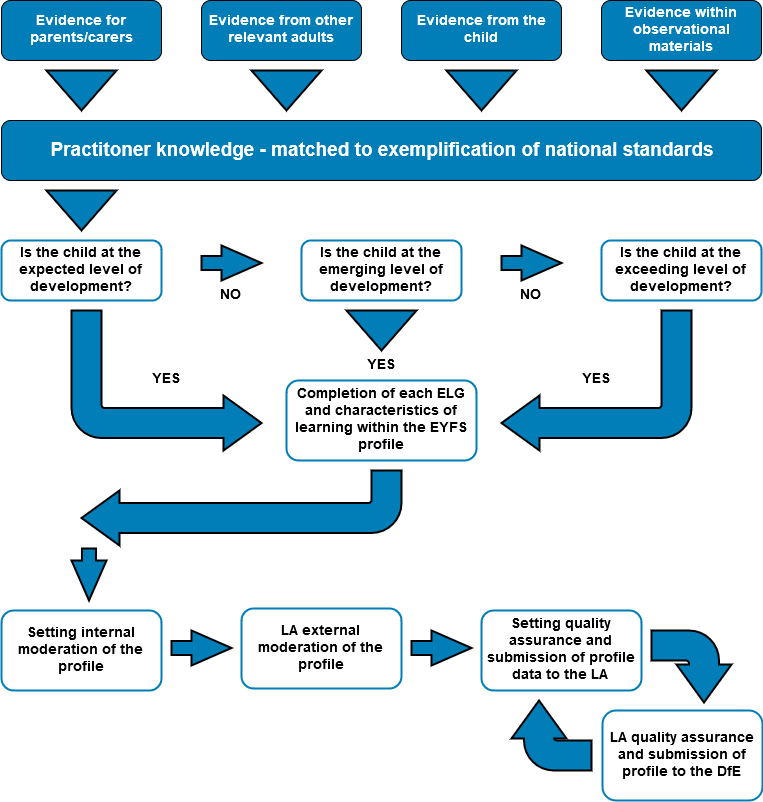 Moderation
Moderation Meetings take place throughout the year. These meetings provide an opportunity for practitioners to share the judgements they have made of their key children's attainment in relation to their progress using the EYFS – Early Years Outcomes. Practitioners can share the evidence they have collected for three of their children in the Prime Areas of Learning plus Mathematics.
This session will be informal with table discussions supported by a moderator. The main purpose of the session is to bring together practitioners currently working with the children across the EYFS so that transitional information is accurate and consistent across Bolton.
Please Note: In order to take part in the activity, it is essential that practitioners bring along evidence to share. This need not be extensive evidence as practitioner's own knowledge of the child is also key information and should be used to talk about the child's learning and development with evidence to illustrate significant points and achievements.
EYFSP Moderation 2017/18
Moderation responsibilities for schools and LAs are set out in the STA Assessment and Reporting Arrangements.
Schools will be notified at the end of the spring term if they are to receive a moderation visit or attend a meeting. The moderation visit will involve discussion of individual children's full profile assessments.
The statutory moderation meetings will take place in the summer term and the focus will be on Communication and Language and Mathematics.