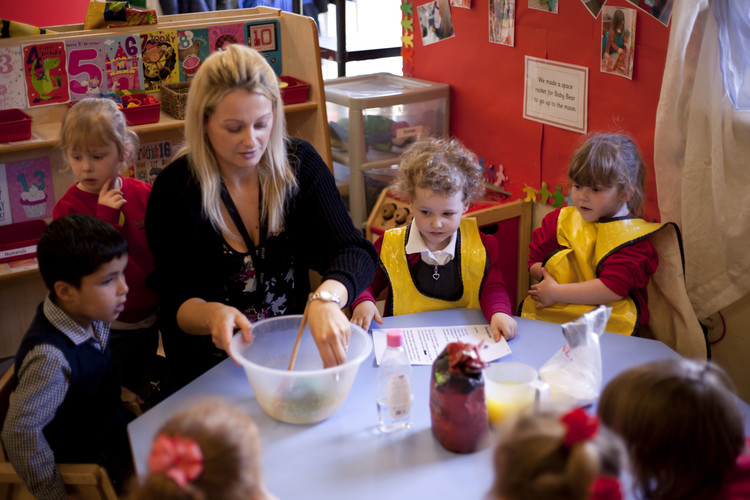 Nursery Narrative Online | 26th January 2021 | 3:00pm - 4:00pm
£40.00
Stock: 9
SKU: NN 26-01-2021 3:00pm - 4:00pm
Category:

courses
Description
This online training course is based around the 'Nursery Narrative' CD resource and will enable delegates to deliver effective interventions that develop children's speaking and listening skills through narrative.
As part of the course, a pre-recorded in-depth training video will be issued for you to view prior to this session which focusses on narrative development in young children and the use of the 'Nursery Narrative' CD resource. This one hour interactive session will give you the opportunity to ask any questions you may have around the use of narrative with your children.
What will I learn?
The course delivers interventions using the Nursery Narrative Approach, which extend vocabulary and language in certain topic areas. The online training will cover the theory behind narrative development in young children and additional videos will share how to deliver the practical activities.
By the end of the workshop, you will:
Have improved your knowledge and understanding of the Narrative Approach;
Know how to improve the language, listening and storytelling skills of children aged 3-5 years;
Develop your knowledge and understanding of storytelling skills;
Be able to carry out an intervention group to support communication and language; and
Make effective use of the Early Years Pupil Premium and Pupil Premium Grant.
Delegates can purchase a copy of the high quality 'Nursery Narrative' CD resource, which contains a complete set of activities, lesson plans and picture resources to teach the narrative framework. This resource is sold separately, priced at £81.60 including VAT.
This resource complements topic based curriculum activities. It includes full instructions and session plans, along with extension activities and carry over ideas for use in a whole class approach. A bespoke package of support is also available. Please contact us for more details.
Delivered by: Bolton Start Well Service, Communication and Language Development Team
Who is this workshop for?
This workshop is aimed at practitioners working with children aged 3-5 years and their families. It is also suitable for Managers, Communication Champions, EYFS Leads, SENCOs, Room Leaders and all Early Years Practitioners.
Booking Arrangements
E-mail: StartWellBookings@bolton.gov.uk if you need assistance when booking online.
Course delivery
This course will be delivered using a blended learning approach and will include a recorded training session sent out prior to this interactive session. Access to the interactive session is via Microsoft Teams.
Once you sign up for the course, you will be sent a welcome email with a link to view the pre-recorded element of the training, and any supportive pack appropriate to the training. Should you need to, you will be able to pause the pre-recorded presentation while you view it or view it again using the same link. This link is intended for you only and should not be shared, copyright applies.
The online session on the 26th January 2021 at 3:00pm - 4:00pm via Microsoft Teams is an essential element of the training, an opportunity to get together with a member of the Start Well Communication and Language Development team and others following this course to ask questions, share good practice with your peers and complete the final element of the training.
You will be able to submit questions in advance via StartWellBookings@bolton.gov.uk. Please state the name and date of the session on any emails.
Please note, you can access Microsoft Teams via a tablet, computer or smart phone device and you can join as a guest if you do not have an account. Alternatively, the Teams app can be downloaded for free onto a smart device prior to the event from the App Store or Google Play.
Commitments and Cancellations
If you withdraw from the training before you are issued with the resources or online joining instructions, the following sliding scale of charges will apply:
| Calendar days' notice before the start date of the course | Fee applicable |
| --- | --- |
| 29 calendar days or more | No charge |
| Between 15 and 28 calendar days (inclusive) | 50% of course fee |
| Between 1 and 14 calendar days (inclusive) | Full course fee |
| Failure to attend | Treated as late cancellation and full course fee will be charged |
All requests to withdraw must be received in writing to startwellbookings@bolton.gov.uk with the date accepted as the date of the email.
Charges will become effective on the date when we issue the booking confirmation and welcome email, unless we receive an undeliverable return, excluding any Out of Office notice.
Disclaimer
If for any reason we are unable to deliver the training as agreed, we will notify all delegates booked onto the course as quickly as possible with a revised date.
A full refund will be given in the event that we cancel the training in full.
Prices are valid until 31st August 2021.
Date: 26-01-2021
Time:
1 hour | 3:00pm – 4:00pm
Max Availability: 15
Roles:
All Early Years Practitioners
Communication Champions
Daycare Managers
Daycare Room Leaders
English Subject Leaders
EYFS Leaders
Literacy Coordinators
Nursery Room Leaders
Categories:
Communication and Language Development
Professional Development Session
Location:
Online
Type:
Traded
Tutor:
Bolton Start Well Team
Pamela Graveson