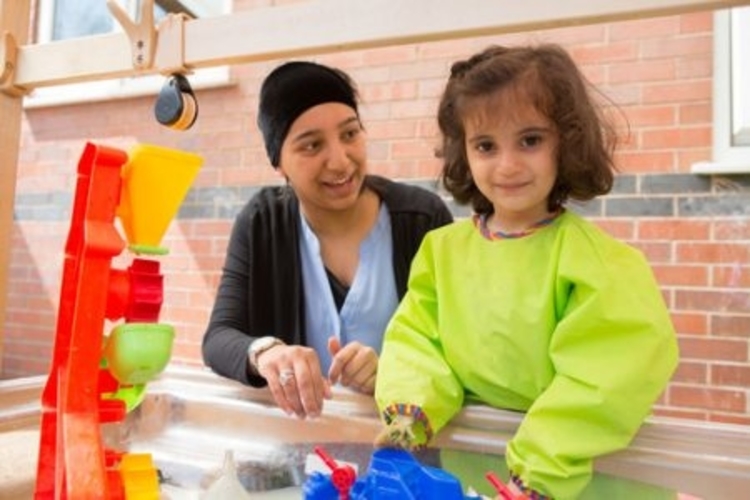 The Early Communication and Language Journey | E-learning
£0.00
Stock: 83
SKU: The Early Communication and Language Journey | E-learning
Category:

courses
Course Description
This E-Learning package is available upon request to access any time.
The course will help you to support the communication and language development of children in the EYFS with support from the practical Early Communication and Language Journey resource. It includes video clips to support your understanding and knowledge and reflection points are featured throughout, to enable you to evaluate your own practice.
To participate fully in this training, it is essential that you have a copy of The Early Communication and Language Journey resource to use whilst watching this session. If you do not have a copy in your school/setting, please contact Bolton Start Well by telephone: 01204 338149 to make arrangements to collect a free copy from Harvey Start Well Centre.
Please allocate at least 1 hour to undertake the E-learning course, watch the video clips and complete the reflective activities.
How will this course help?
We will:
Explore knowledge and understanding of typical communication and language development of children aged 0-7 years;
Consider how we can identify children below or at risk of communication and language delay and so improve early identification;
Briefly discuss where the Communication and Language Journey fits into the integrated Communication and Language Pathway;
Explore practical advice and strategies to support parents and families; and
Consider how we can effectively target further assessments and interventions (such as WellComm, Language through Listening, Nursery Narrative and EYBIC).
Communication and Language Surgery Dates
Following completion of this E-learning course, the Start Well Communication and Language Development Team invite you to attend one of the Communication and Language Surgeries (online drop-in) to access further support and consolidate your learning. Please come along ready to discuss any communication and language elements you would like further clarification around or support with.
Book onto a suitable date from those listed below via: https://www.boltonstartwell.org.uk/courses.
Surgery dates 2022/23
| Daytime (3:30pm - 4:30pm) | Evening (6:30pm - 7:30pm) |
| --- | --- |
| 19th January 2022 | 17th February 2022 |
| 15th March 2022 | 21st April 2022 |
| 11th May 2022 | 9th June 2022 |
| 6th July 2022 | 29th September 2022 |
| 19th October 2022 | 24th November 2022 |
| 14th December 2022 | 19th January 2023 |
| 15th February 2023 | 16th March 2023 |
You must watch the training video prior to attending one of the above surgery dates.
Delivered by: Bolton Start Well Service, Communications and Language Development Team
Who is this course for?
This online course is aimed at all practitioners working with children aged 6 months to 6 years and their families.
Booking Arrangements
Please complete the booking online section above.
If you are booking on behalf of other members of staff, you must provide individual names and email addresses for each person in the 'Additional Information' section of the booking form to complete registration. Generic email addresses such as manager@, office@ or email addresses in the name of the nursery not the individual will not be accepted.
When registration is complete, a welcome email will be issued and you can then access the E-learning platform here.
If you already have access to the E-learning platform, please email StartWellBookings@bolton.gov.uk to have this course added to your training record.
E-mail StartWellBookings@bolton.gov.uk if you need assistance when booking online or accessing this E-learning course.
Course Delivery
Once enrolled, you can complete this E-learning course anytime, at your own pace.
Please note: to get the most out of this training, delegates will need to allocate at least 1 hour to complete the course. You will be able to stop, start and revisit the modules as and when needed.
On completion of this course, a certificate will be issued automatically.
E-mail: StartWellBookings@bolton.gov.uk if you need assistance with this course or have any issues whilst accessing the E-learning platform.
Date: 31-07-2022
Max Availability: 100
Roles:
2 Year Old Provision
All Early Years Practitioners
Communication Champions
Practioners working with children learning English
Categories:
2 Year Old Provision
Communication and Language Development
Every Child Training
Professional Development Session
Location:
E-learning
Type:
Fully Funded
Tutor:
Bolton Start Well Team