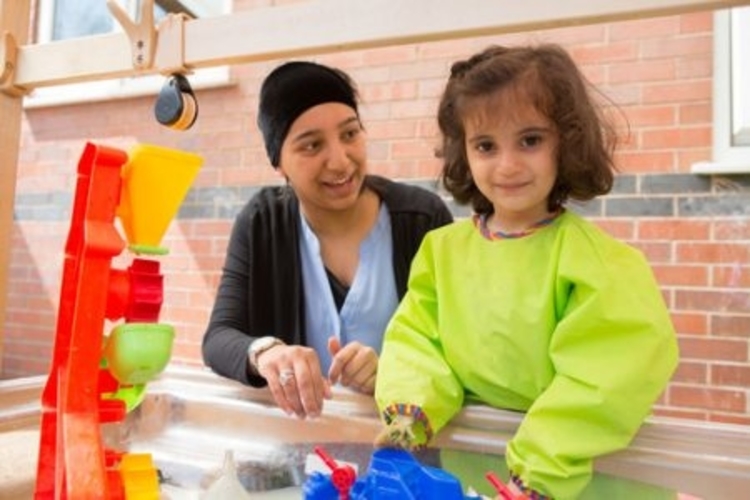 Using the Communication and Language Journey resource to support the communication and language development of 2-year-olds | 22nd April 2021 | 3:30pm - 4:30pm
£0:00
Stock: 18
SKU: 22/04/2021 3:30pm - 4:30pm Follow-up session
Category:

courses
Course Description
This virtual discussion group follows a pre-recorded resource including prompts to reflect and linked videos to watch. This focused discussion group is designed to support you to deepen your knowledge of communication development explored in the Communication and Language Journey training. This session will be a one-hour digital interactive discussion and will be supported by members of the Early Years Communication and Language Development Service (EYCLDS). The session will be held on Microsoft Teams.
We encourage you to ask questions before the session, so we are able to tailor the discussion to meet your needs. Should you have any questions at this point, please email: startwellbookings@bolton.gov.uk with 'Questions for Communication and Language Development of 2-year-olds ' in the subject box. Alternatively, you may wish to bring your questions along to the session.
Please note: You will need access to a Communication and Language Journey resource during the session and should have undertaken the training session included on the link.
How will this course help?
We will:
Explore typical development for this age group in more depth using the resource;
Considering how we can link well with other professionals and offer appropriate support for the language rich home learning environment;
Clarify your knowledge and understanding around the topic, in a supportive environment;
Take part in professional discussions with other professionals and colleagues;
Share good practice around the topic; and
Consider how to share understanding and good practice wider to impact on your setting and families.
Training Resources
Start Well have developed some essential training resources to support practitioners to develop a strong curriculum offer for every child, supporting pedagogy and practice. These are:
The Communication and Language Journey
The Number Journey
The Mark Making to Writing Journey
These training resources will be updated to reflect the revised EYFS next academic year. In the meantime, to support providers as part of COVID-19 recovery planning, we are making the remaining stock available to providers at no cost, with a limit of 1 of each title per setting. Each Journey will also have an accompanying recorded training session that will be available online as a refresher or introductory session for new staff.
The resource will be made available to settings (providing funded education places) that do not already have a copy according to Bolton Start Well records, whilst stocks last. If you do not have a copy in your school/setting, please contact Bolton Start Well by telephone: 01204 338149 to make arrangements to collect a copy from Harvey Start Well Centre.
Dates
Booking via https://www.boltonstartwell.org.uk/courses.
Using the Communication and Language Journey resource to support the communication and language development of 2-year-olds:
19th November 2020, 3:30pm - 4:30pm
21st January 2021, 3:30pm - 4:30pm
22nd April 2021, 3:30pm - 4:30pm
Delivered by: Bolton Start Well Service, Communications and Language Development Team
Who is this course for?
This online course is aimed at all practitioners working with 2 year old children and their families.
Booking Arrangements
E-mail: StartWellBookings@bolton.gov.uk if you require assistance when booking online.
Course Delivery
This course will be delivered using a blended learning approach and will include a recorded training session and an interactive workshop. The training may include participants pack to support the training and link to the workshop.
Access is via MS teams live.
You can submit questions in advance by email: StartWellBookings@bolton.gov.uk. Please state the name and date of the workshop on any emails.
Please note, you can access Microsoft Teams Live via a tablet, computer or smart phone device and you can join as a guest if you do not have an account. Alternatively, the Teams app can be downloaded for free onto a smart device prior to the event from the App Store or Google Play.
Commitments and Cancellations
In order to maintain best value, we need to run this course on a maximum occupancy basis. If your place is confirmed but you are unable to attend, please send an alternative representative or cancel your place in writing by e-mailing: StartWellBookings@bolton.gov.uk with a minimum of 24 hours' notice.
Disclaimer
If for any reason we have to cancel or postpone a professional development session, we will notify all delegates booked onto the session as quickly as possible.
Date: 22-04-2021
Time:
1 hour | 3:30pm - 4:30pm
Max Availability: 18
Roles:
2 Year Old Provision
All Early Years Practitioners
Communication Champions
Categories:
2 Year Old Provision
Communication and Language Development
Every Child Training
Professional Development Session
Location:
Online
Type:
Fully Funded