Early Years Update 17th July 2020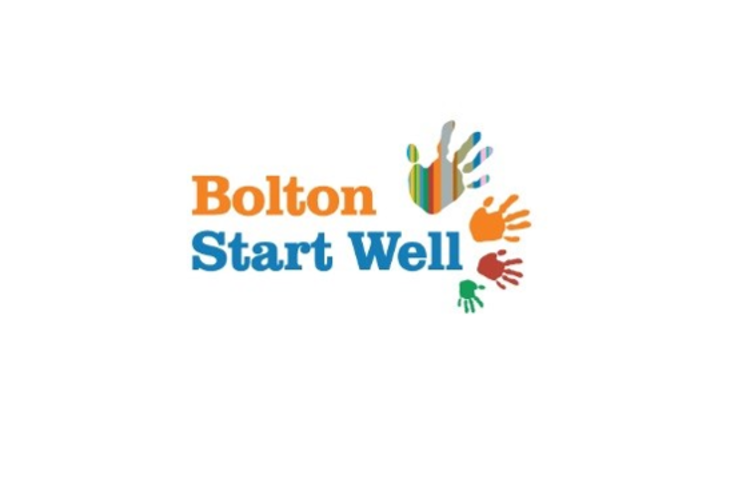 Weekly update for EYFS providers.
Dear Colleagues,
Thank you to everyone who joined Start Well at one of the many briefings or webinars this week, slides will be shared. It has been a busy week and we have had some very positive feedback, thank you for attending and contributing.
Some of you will be closing today for the summer holiday, some will be remaining open and some will be opening for the first time in a while!
We want you to know that Start Well will be here all summer and we will continue to be in touch, sending updates from Government, running further briefings and meetings for you ready for September and the period ahead.
Any requests or areas that you feel you would like further help, support or guidance, please email the team at startwellbookings@bolton.gov.uk.
In this weeks update email the attachments are:
COVID-19: Education, Childcare and Sessional Activity Signposting Service from 13th July 2020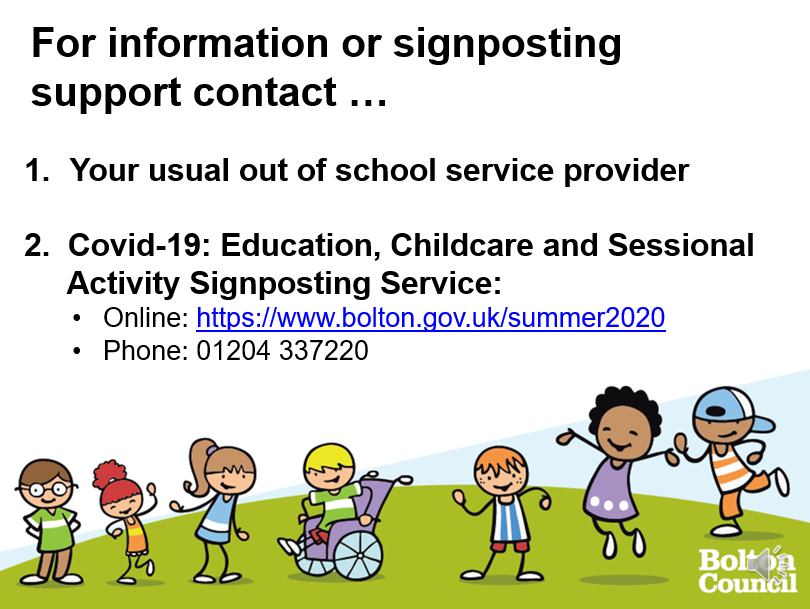 COVID-19 Early Education DfE Return for Bolton Providers
The Department for Education (DfE) have asked local authorities to complete a weekly data return to help inform national early years and childcare policy relating to COVID-19. They are also collecting information from schools to understand who is currently attending school and wider provision for children and young people.
To make sure we accurately represent the early education and childcare market and challenges in Bolton, please can providers complete this data return on a weekly basis by 12 noon each Wednesday to allow your responses to be collated for the national return. This will replace the data collection you will have been used to completing over previous weeks – changes have been made in line with updated information requests from the DfE.
If you need any support to complete this, please email families@bolton.gov.uk.
To help reduce demand on providers, we will use this same return to update the records being used by our Brokerage Team, who are supporting parents to find early education and childcare providers.
Summer Briefings for Childminders
A Summer Briefing for Childminders will be held on Tuesday 28th July 6:30pm - 7:45pm. It is an opportunity to look at the current guidance and information and discuss what this means for childminders.
Joining Instructions:
Prior to the meeting, please email: startwellbookings@bolton.gov.uk to register your attendance. Confirm your email address and name within the email. A briefing invitation will be emailed back to those that register and you will use this to access the briefing on the day.
Questions before and following the briefings:
Should you have any questions at this stage, please email them to: startwellbookings@bolton.gov.uk with 'Question for childminder briefing' in the subject box. Alternatively, you may wish to watch the whole session and then come to us with any further questions afterwards.
Bolton Public Health Briefing for Education Settings
This briefing took place on the 16th July, slides are attached. You can watch a recording of the briefing by following the link below there is a little time lag, so if you forward to approximately 7:25 minutes, the recording will start.
Please use this link to access the session: https://teams.microsoft.com/l/meetup-join/19%3ameeting_MWVhMDZiNzUtMDRkNy00YTU3LTljMmUtZmYzZTUzMjdlZjU5%40thread.v2/0?context=%7b%22Tid%22%3a%2243780061-ae5d-41df-8197-c8bc4da9be1e%22%2c%22Oid%22%3a%22134a32c8-bcf9-4c15-9be8-8bac5097e31c%22%2c%22IsBroadcastMeeting%22%3atrue%7d
Questions and further information requests to public health:
A question and answers section took place at the end of the session, using questions from early years providers and schools. If you have any further public health questions, please can you email those to policyandperformance@bolton.gov.uk. Please also let us know about any other information that you would find useful during the summer holiday period.
Bolton Public Health COVID-19: public health update for education
To access the weekly information for all education settings, use the links below:
'Finding your way through' - FREE sector specific workshops from Hempsalls to the Early Years Sector in Bolton
The sessions will delve into our six-step decision-making and future planning process so you can learn from your experiences of what is working well and consider how to plan with many uncertainties and unknowns. You will also be given links to websites and useful free tools which can help your business planning. Balance service delivery with safety and financial sustainability by:
Accessing all applicable Governent funding support
Finding out what people want and understanding post COVID-19 demand
Completing a breakeven analysis for possible new delivery models
Developming a cashflow forecast for the summer and autumn terms
Financial planning for the changes to furloughing and reopening
Marketing and promoting services to maximise occupancy and fill available places
Three 90-minute sector specific workshops will take place as follows:
Childminders - Monday 20th July 2020, 6:00pm - 7:30pm book a place!
Out of School Club - Wednesday 22nd July 2020, 10:30am - 12:00 noon book a place!
Group setting (PVI) - Wednesday 22nd July 2020, 1:30pm - 3:00pm book a place!
EYFS Settings and Start Well Coordination Hub Meeting
The minutes for the meeting held on 10th July 2020 are attached. The next meeting will take place on Thursday 23rd July.
Please note that although this meeting is with a small number of providers, we welcome questions from any setting and aim to answer them or raise them at this meeting. Please can you forward any questions to StartWellDevelopmentTeam@bolton.gov.uk
This group is not affiliated to any other group, however any issues or themes are fed through or escalated via the Head of Start Well, Helen Shearer, to either the Council or DfE.
Bekindtomymind
Bekindtomymind is a Bolton campaign, developed by the Healthy Minds Youth Project and NHS Bolton Clinical Commissioning Group, to reduce the stigma and discrimination around mental health. Enabling young people who are struggling with emotional or mental health problems to know "it's okay to talk"…
Find out about who they are and why they're working so hard to get this message across. Access here: https://www.bekindtomymind.co.uk/
COVID-19 Resource Packs for Early Years and Childcare Settings in Bolton
Bolton Start Well have been working with Public Health colleagues and have created the documents listed below. They will support you to know what to do if there has been a confirmed case of COVID-19 in an education or childcare setting in Bolton. It is aligned with national guidance and goes through the local processes. Please follow the link below for more information:
https://www.boltonstartwell.org.uk/news/article/89/bolton-what-to-do-if-there-is-a-confirmed-case-of-covid-19-in-an-education-or-childcare-setting
Updated Government Guidance
The DfE have published the following detailed guidance to support schools and colleges to fully reopen in September and early years and childcare providers from 20 July:
Useful Links
Take care and I hope you find time to relax and take some rest this summer.
Kind regards
Helen
Helen Shearer
INTERIM HEAD OF SERVICE, START WELL PROFESSIONAL LEAD (EARLY YEARS EDUCATION AND CHILDCARE)
Start Well Service
Education and Learning Division
Start Well Service | Education and Learning Division | Department of People | Bolton Council | Harvey Start Well Centre | Shaw Street | Bolton | BL3 6HU
www.boltonsafeguardingchildren.org.uk
www.boltonsafeguardingchildren.org.uk/downloads/file/170/bolton-safeguarding-children-arrangements-during-covid-19
T: 01204 334246| M: 07824550699 | W: boltonstartwell.org.uk | www.bolton.gov.uk