Early Years Update 10th July 2020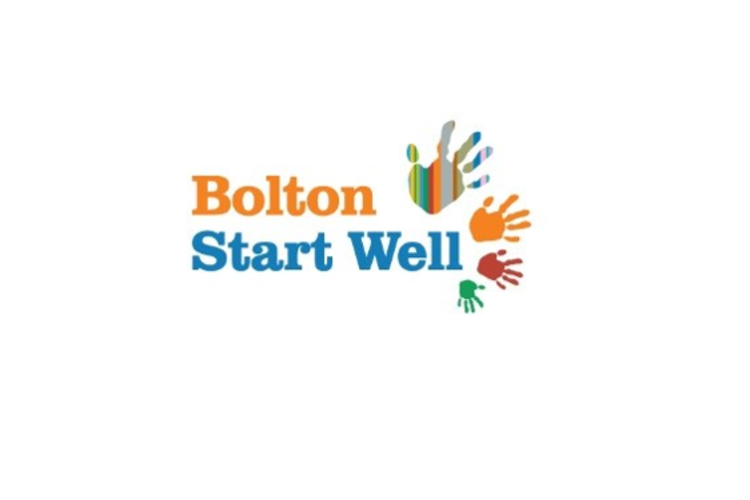 Weekly update for EYFS providers.
Dear Colleagues,
I hope that you are all well. We are continuing to develop our social media campaign to raise awareness of childcare for parents.
Today you can access the information that we have put out regarding Wraparound care and OOSC for this summer. You will see it on social media across the weekend and on the families information page shortly:
'Looking for childcare or out of school care in Bolton this summer?'
Please click here to view the recorded slides; https://youtu.be/KKvi-gmE6KU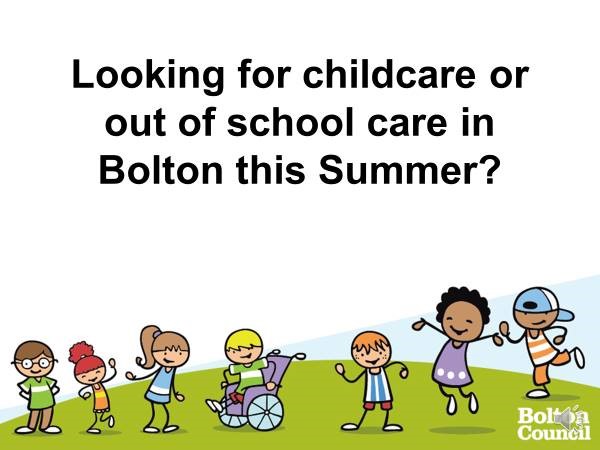 COVID-19: education, childcare and sessional activity signposting service
This Council webpage has been updated to support parents who are looking for childcare and sessional sctivities this summer. Please go to: https://www.bolton.gov.uk/
The information for parents states:
'Some early education and childcare providers will remain closed, working at significantly lower numbers, or working in a different way, to meet the safety guidance set by the Government. If you are not able to access your current early education or childcare provider, and there are no alternative care options, please contact the One Stop Shop on 01204 337220 – whilst places cannot be guaranteed, the Council will be able to provide you with details of early education, childcare and sessional activities that are currently open to help you find the services needed. Information will be available from the week commencing 13th July and will be updated through the summer holidays if more information becomes available.'
Now the Government have released initial guidance to support the delivery of out of school / holiday activity clubs, we are collating details of sessional activities for families over the 6 week holidays. This will be used to help signpost families looking for formal childcare or sessional sctivities whilst parents work.
Wraparound out of school service (OOSS) we are looking to identify those that will run:
at some point during the hours of 9:00am - 5:00pm, Monday to Friday
for half or full day sessions
without a parent needing to be present (i.e. a parent may drop their child off on their way to work. The child may be collected by someone else whilst the parent is working, or make their way home once the session is finished).
URGENT - We need to ensure that we have your updated information to support this service. In order that your provision is added to list of providers in the COVID-19: Education, Childcare and Sessional Activity Signposting Service, we need you to complete this form as soon a possible. Please return your completed form to families@bolton.gov.uk. As the school holidays are repidly approaching, please can you return the form by Tuesday 14th July 2020.
COVID-19 early education DfE return for Bolton providers
The Department for Education (DfE), have asked local authorities to complete a weekly data return to help inform national early years and childcare policy relating to COVID-19. They are also collecting information from schools to understand who is currently attending school and the wider provision for children and young people.
To make sure we accurately represent the early education and childcare market and challenges in Bolton, please can providers complete this data return on a weekly basis by 12 noon each Wednesday to allow your responses to be collated for the national return. This will replace the data collection you will have been used to completing over previous weeks – changes have been made in line with updated information requests from the DfE.
If you need any support to complete this, please email families@bolton.gov.uk.
To help reduce demand on providers, we will use this same return to update the records being used by our Brokerage Team, who are supporting parents to find early education and childcare providers.
Summer briefings - virtual meetings
Bolton Start Well will be facilitating a number of online summer briefings to look at the most up-to-date national and local guidance and information, including:
Planning for wider opening
Updated guidance and disapplications
EY Reforms
A summer briefing for EY leads in schools Friday 10th July 2020, 1:30pm - 2:45pm https://www.boltonstartwell.org.uk/news/article/86/start-well-summer-briefing-for-early-years-leads-in-school
A summer briefing for PVI daycare Thursday 16th July 2020, 10:00am - 11:15am. Following on from this, is a network meeting for PVI daycare settings on Monday 20th July 2020, 10:00am - 11:00am which is a follow-up opportunity for solution focused discussion with peers to support your own planning.
A summer briefing for childminders Tuesday 28th July 2020, 6:30pm - 7:45pm. This is an opportunity to look at the current guidance and information and discuss what this means for childminders.
The next Start Well Briefing for Out of school clubs (based in PVI settings) is on Monday 13th July 2020, 2:00pm - 3:30pm. These meetings will focus on out of school recovery planning for the summer and autumn term. There will also be a peer discussion facilitated by the Start Well Quality and Outcomes team.
Joining Instructions
Prior to the meeting, please email: startwellbookings@bolton.gov.uk to register your attendance. Confirm your email address, name and school/setting name within the email. A briefing invitation will be emailed back to those that register and you will use this to access the briefing on the day.
Questions before and following the briefings:
Should you have any questions at this stage, please email them to: startwellbookings@bolton.gov.uk with 'Question for school/PVI/Childminder/OOSC briefing' in the subject box. Alternatively, you may wish to watch the whole session and then come to us with any further questions afterwards.
We will record the school and PVI daycare briefings to enable them to be watched again and will make the slides available, together with responses to questions, as soon as possible.
Bolton Public Health COVID-19: public health update for education
To access the weekly information for all education settings, use the links below:
Public Health Update for Education
Finding your way through - support from Hempsall's to the early years sector in Bolton
Please find attached a flyer with details for the training support from Hempsalls and the booking details to access the free training via the links within the flyer.
The programme includes:
A 90-minute online information session for all providers on Tuesday 14 July 2020, 1:30pm – 3:00pm
and
Three 90-minute online sector specific workshops:
Childminders Monday 20 July 2020, 6:00pm - 7:30pm
Out of School Wednesday 22 July 2020, 10:30am - 12:00noon
Group setting (PVI) Wednesday 22 July 2020, 1:30pm - 3:00pm
Booking essential!
Launch of Bolton Start Well at Home (Facebook group)
Last week saw the launch of Bolton Start Well at Home which aims to provide support, information, advice and some fun activities for parents and carers of under 5s in Bolton.
This Facebook group offers a range of popular activities from the Bolton Start Well centres such as Busy Babies and Jumping Beans, for parents and their children to follow at home. Staff will also share songs, rhymes and stories, which will support children's early communication and language development. There will also be plenty of opportunities for parents and carers to comment and ask questions of professionals who they know and trust.
The group is managed by Bolton Start Well Service in collaboration with the Children and Young People's Health and Wellbeing Service at Bolton NHS Foundation Trust.
Please share the news of the group with your families. They can join here: https://www.facebook.com/groups/BoltonStartWellatHome/
Updated guidance
COVID-19 Resource Packs for Early Years and Childcare Settings in Bolton.
Start well have been working with Public Health colleagues and have created the documents listed below. They will support you to know what to do if there has been a confirmed case of COVID-19 in an education or childcare setting in Bolton. It is aligned with nation guidance and goes through the local processes: https://www.boltonstartwell.org.uk/news/article/89/bolton-what-to-do-if-there-is-a-confirmed-case-of-covid-19-in-an-education-or-childcare-setting
Updated statement on admission of summer-born children 2020: https://www.gov.uk/government/publications/summer-born-children-school-admission/updated-statement-on-admission-of-summer-born-children-2020
DfE have this morning published the following detailed guidance to support schools and colleges to fully reopen in September and early years and childcare providers from 20 July:
Useful links
kind regards
Helen
Helen Shearer
INTERIM HEAD OF SERVICE, START WELL PROFESSIONAL LEAD (EARLY YEARS EDUCATION AND CHILDCARE)
Start Well Service
Education and Learning Division
Start Well Service | Education and Learning Division | Department of People | Bolton Council | Harvey Start Well Centre | Shaw Street | Bolton | BL3 6HU
www.boltonsafeguardingchildren.org.uk
www.boltonsafeguardingchildren.org.uk/downloads/file/170/bolton-safeguarding-children-arrangements-during-covid-19
T: 01204 334246| M: 07824550699 | W: boltonstartwell.org.uk | www.bolton.gov.uk