Bolton Covid-19 test centre open for anyone with symptoms

Bolton Covid-19 test centre open for anyone with symptoms. University of Bolton Stadium (Bolton Wanderers)
Anyone over the age of 5 who has symptoms of coronavirus (COVID-19) can be tested at the University of Bolton Stadium drive through test site. This facility has been set up by Bolton Council, Bolton NHS Foundation Trust and Bolton Clinical Commissioning Group in partnership with Bolton Wanderers and is a satellite of the national NHS testing programme.
Testing eligibility has been widened following the addition of Anosmia as a symptom of coronavirus. Anosmia is the loss or change in your normal sense of smell, it can also affect your sense of taste.
You and your household should self-isolate immediately if you have:
a new continuous cough OR
a high temperature OR
a loss of or change in your normal sense of smell or taste.
Tests at the site are available by pre-booked appointment only.
To book your appointment or for further information visit: www.bolton.gov.uk/covidtesting
Residents can also use the national website (https://self-referral.test-for-coronavirus.service.gov.uk/test-type) to self-refer to a regional drive through test centre (Manchester Airport, Etihad Stadium or Haydock Racecourse), or request a home testing kit if you do not drive.
If you are unable to access the internet, call 119 in England and Wales or 0300 303 2713 in Scotland and Northern Ireland to book a test at one of the regional test sites or a home test kit (subject to availability).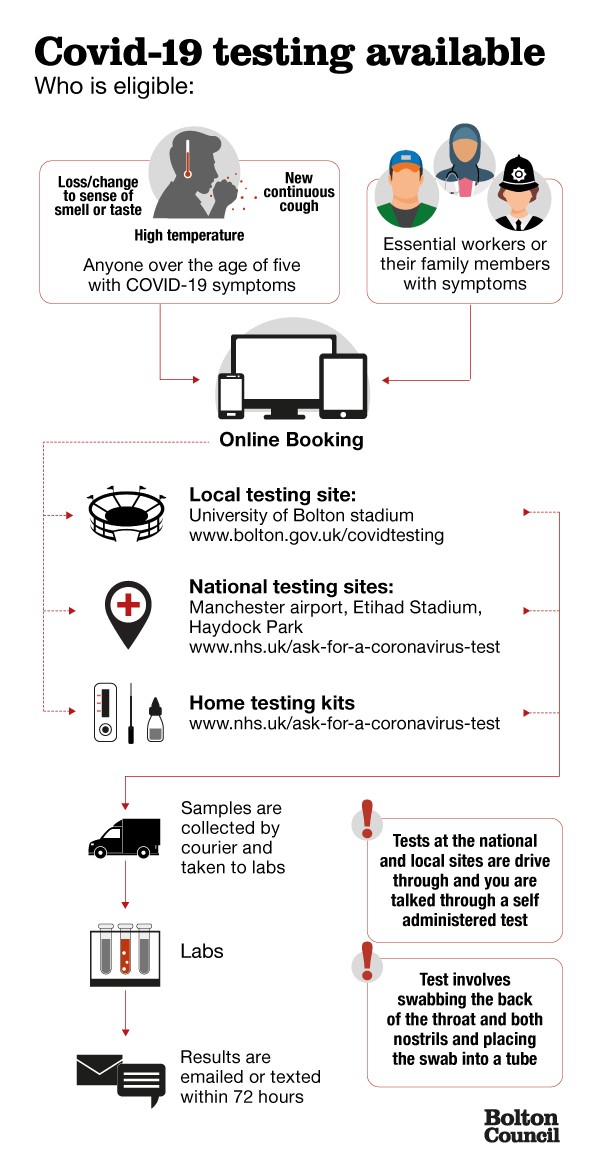 COVID 19 testing procedure - Bolton Council