Ofsted: coronavirus (COVID-19) rolling update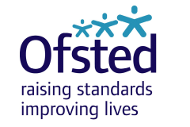 Ofsted guidance and information relating to coronavirus (COVID-19) for schools, early years, children's social care and further education and skills providers.
Recent changes to the Ofsted: coronavirus (COVID-19) rolling update are summerised below. The full guidance document can be found here.
Letting Ofsted know if you are opening or temporarily closing
Ofsted are working with local authorities to find out which early years providers, including childminders, are currently open or temporarily closed. This is to help support vulnerable children.
To help gather this information, Ofsted may be in contact with you directly in the coming weeks.
In the meantime, if your operating circumstance change (you open or close), notify ofsted by sending an email to enquiries@ofsted.gov.uk with 'Change in operating hours' in the subject field. In the body of the email, please confirm the unique reference number for each setting and the details of the change. You can find your URN on your registration, your inspection report(s), and on your Ofsted reports page.