Bolton COVID-19 Vaccination Sites - up to Sunday 30th January 2022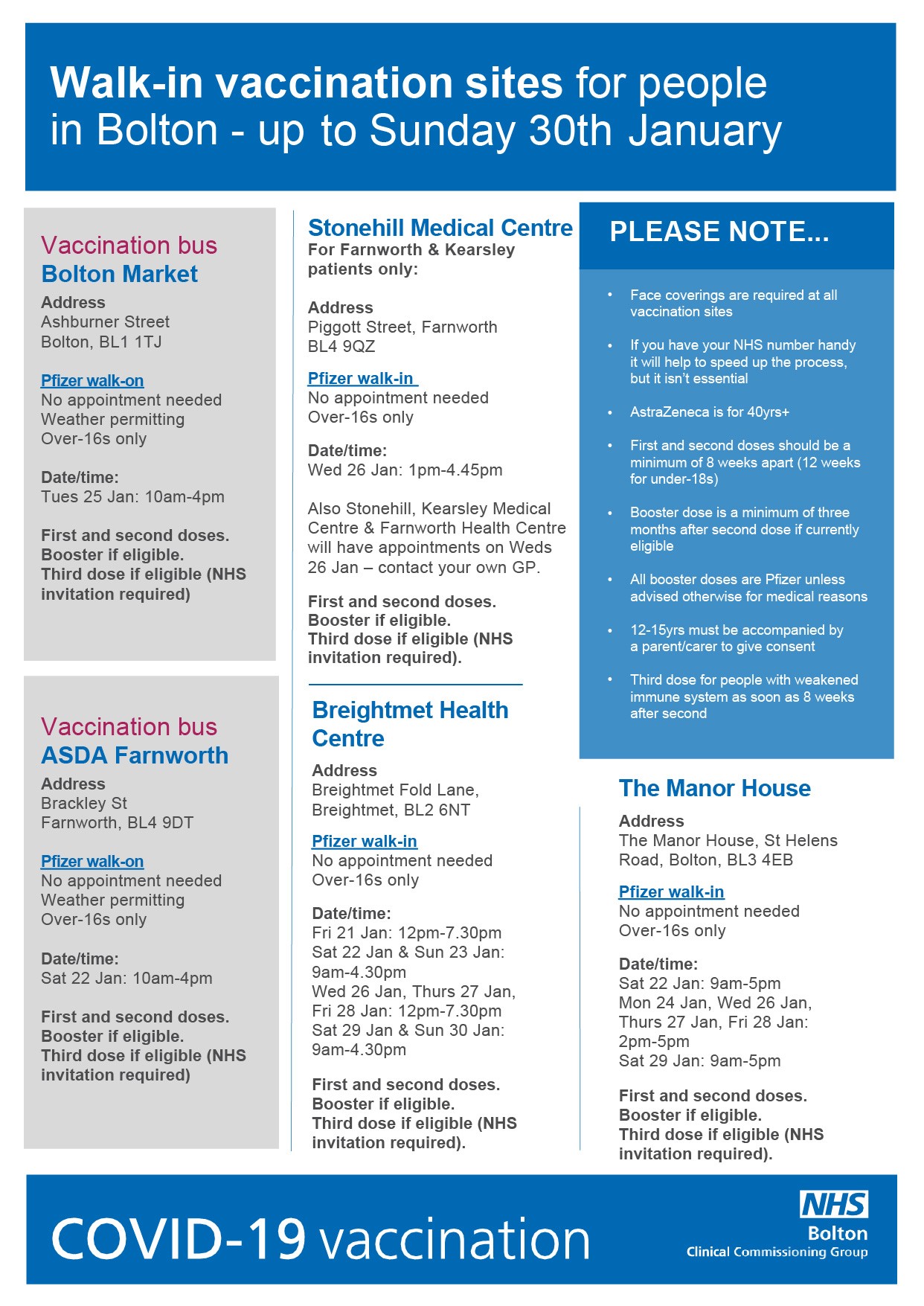 COVID-19 vaccination services for Bolton residents aged 12 years and over, up to Sunday 30th January 2022 - see poster for details.
Friday January 21, 2022
Partner briefing – Bolton Covid-19 vaccination programme
Chances are you will know several people who caught Coronavirus over Christmas and New Year! Many people will have had to cancel or re-arrange their vaccination appointments because they had Covid. Others may have planned to attend a walk-in clinic. Please urge them to get jabbed as soon as they are eligible. Just like cold and flu, if you've had coronavirus once you can still catch it again and have to self-isolate.
For many of them, the waiting period after testing positive will be almost over. Over-18s only have to wait 28 days after a positive Covid test, or the start of symptoms, to have any dose of the vaccination. The period is 12 weeks for under-18s. If a child is at high risk (their parents will have received a letter from the NHS), the period is reduced to four weeks.
Infection rates soared over the festive period and, although they are now falling, they are still very high. Covid is still highly infectious and people can still get seriously ill. Getting boosted still offers the best protection against the Omicron variant. It's also never too late for people to get their first or second dose if they not already had them. There is also increasing evidence that if you are vaccinated, you are less likely to spread the virus to others.
Bolton has a wide choice of walk-in vaccination sites open this coming week. Over-16s can attend any of them without an appointment for their first, second or booster doses. People with a severely weakened immune system can also get a third dose as soon as eight weeks after their second if they have an NHS letter. Parents can take their 12-15 year olds for their first or second jab at Bolton's walk-in clinics at Market Place Shopping Centre, Horwich RMI, Bolton Wanderers and Avondale Health Centre.
The vaccination bus will also be on the road again. Over-16s can hop on board at Asda Farnworth from 10am-4pm tomorrow (Saturday 22) or at Bolton Market at the same times on Tuesday (January 25). The bus has wheelchair access.
Appointments can also be secured for the Unsworth Group and Stable Fold patients at Peter House Surgery: first and second doses, third dose and booster. Text COVID, your initials and your date of birth to:
07730 765245 - Unsworth Group patients
07587 554149 - Stable Fold patients
Anyone requiring a vaccination can contact NHS Bolton CCG for help on: 01204 462125, 462157, 462028. Phone lines are open Monday to Friday, 8.30am to 5.30pm. Bolton callers only.
We hope you have found this briefing helpful and, if you have any queries, please contact the Bolton CCG: bolccg.communications@nhs.net
The following applies at all vaccination sites:
Face coverings are required unless exempt.
If you have your NHS number handy it will help speed up the process, but it isn't essential
AstraZeneca is for people aged 40 and over
First and second doses should be a minimum of eight weeks apart (12 weeks for under-18s).
Booster dose should be a minimum of three months after second dose if currently eligible
All booster doses are Pfizer unless advised otherwise for medical reasons
Third dose for people with weakened immune system should be as soon as eight weeks after second dose. NHS letter required
12-15 year olds must be accompanied by a parent/carer to give consent.