Bolton COVID-19 Vaccination Sites - up to Sunday 12th December 2021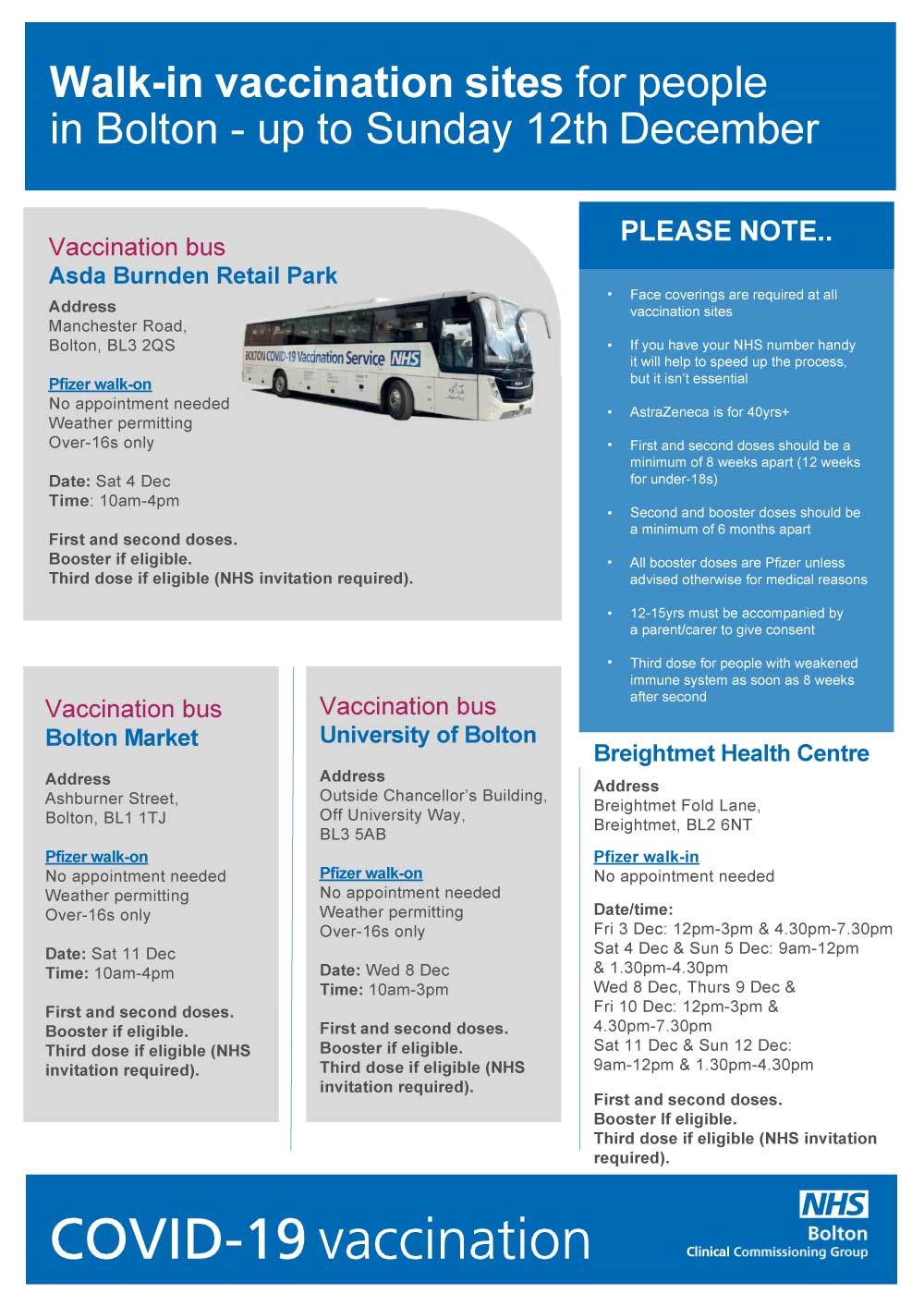 COVID-19 vaccination services for Bolton residents aged 12 years and over, up to Sunday 12th December 2021 - see poster for details.
December 3rd, 2021
Partner briefing – Bolton Covid-19 vaccination programme (NHS Bolton Clinical Commissioning Group)
Dear colleagues,
You will have seen in the news the Government's announcement about the extension of the Covid-19 vaccination programme. This means booster jabs are to be offered to all over-18s, with the period between second and booster doses reduced from six to three months. Additionally, all 12-15s are to be offered a second dose of the vaccine. Currently, this is only available to certain young people.
People in these age groups have already been enquiring when they can have their jabs or attending our walk-in clinics to ask for them. Like other places across the country, The NHS are working hard to ensure that the vaccination sites can deal with this extra capacity. Please assure people that they will tell them when their sites are ready to offer the expanded programme. Until then, people shouldn't attend a walk-in clinic unless they are already eligible.

It is also important to note that people should not contact their GP about vaccinations as phone lines need to be kept free for other health issues.
In the meantime, the NHS are encouraging people who are already eligible to get vaccinated. This is particularly important given that two probable omicron cases have been identified in Bolton.

As usual, the regular walk-in sites are offering a choice of days and times – including late-night opening – for: first and second doses for over-16s; boosters; 3rd doses (for people with a weakened immune system); and first doses for 12-15 year olds.
In addition to the regular walk-in sites, the vaccination bus will (weather permitting) be at:
Asda Burnden Park from 10:00am-4:00pm tomorrow (Saturday, December 4)
University of Bolton, 10:00am-3:00pm, Wednesday, December 8.
Bolton Market, 10:00am-4:00pm, Saturday, December 11.
There is also an additional walk-in clinic at Tonge Moor Health Centre from 9:30am-1:00pm and 2:00pm-3:00pm on Thursday, December 9.

If people have any questions about the vaccine, please continue to urge them to go along to one of the NHS clinics and have a chat with staff.
Anyone having trouble accessing a 1st/2nd/3rd or booster dose of the COVID vaccine please call NHS Bolton CCG for help: on 01204 462125, 462157, 462030, 462028. Phone lines are open Monday to Friday, 8.30am to 5.30pm only