COVID-19 | reporting to Ofsted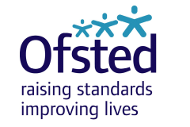 New Ofsted guidance.
Guidance published by Ofsted on the 11th November to help support providers when informing Ofsted of a COVID-19 related incident can be found here.
You must report to Ofsted:
any confirmed cases of COVID-19 (coronavirus) in the setting, either in children or staff
if the setting is advised to close as a result
You must inform Ofsted within 14 days of a confirmed positive test for COVID-19.
You should also refer to the Bolton specific Action Cards in conjunction with the Ofsted guidance.