Ofsted's regulatory work during national lockdown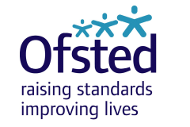 A notice from Ofsted following the Governments second national lockdown announcement on the 3rd November.
Ofsted update
On 17 March 2020, all routine inspections were suspended due to the COVID-19 (coronavirus) pandemic.
Lisa Pascoe, Deputy Director of Regulation and Social Care, Ofsted, has written to providers of education in relation to how Ofsted plan to conduct their work during the second national lockdown. See link below to access this letter.
Osted's regulatory work during national lockdown 5th November 2020
During the autumn 2020 term, Ofsted is carrying out a programme of research interviews with early years providers. The briefing note below reports on the first two weeks of data collection.
COVID-19 Series: briefing on early years, October 2020
A reminder that you can access Ofsted's COVID-19 rolling update here.