Ofsted COVID-19 series: Briefing on Early Years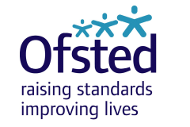 Briefing notes and commentaries from Amanda Spielman about providers that Ofsted have visited or spoken to during the interim phase of their return to routine inspection.
On 17 March 2020, all routine inspections were suspended due to the COVID-19 (coronavirus) pandemic.
As part of a phased return to routine inspection, Ofsted is carrying out interim visits to early years providers.
These briefing notes present Ofsted's findings from visits and other activities carried out from September 2020.
There are separate findings within the COVID-19 series for the early years sector COVID-19 series: briefing on early years, October 2020, that show evidence from the research interviews undertaken by Ofsted with 208 registered early years providers and maintained nursery schools between 5 and 16 October and include the answers to the following four broad questions:
What is the current state of early years provision?
How have children been affected by the first national lockdown?
How are early years providers planning to maintain standards in education and care through the pandemic?
How financially sustainable is the early years sector?
Find out more about Ofsted's plans for autumn 2020.